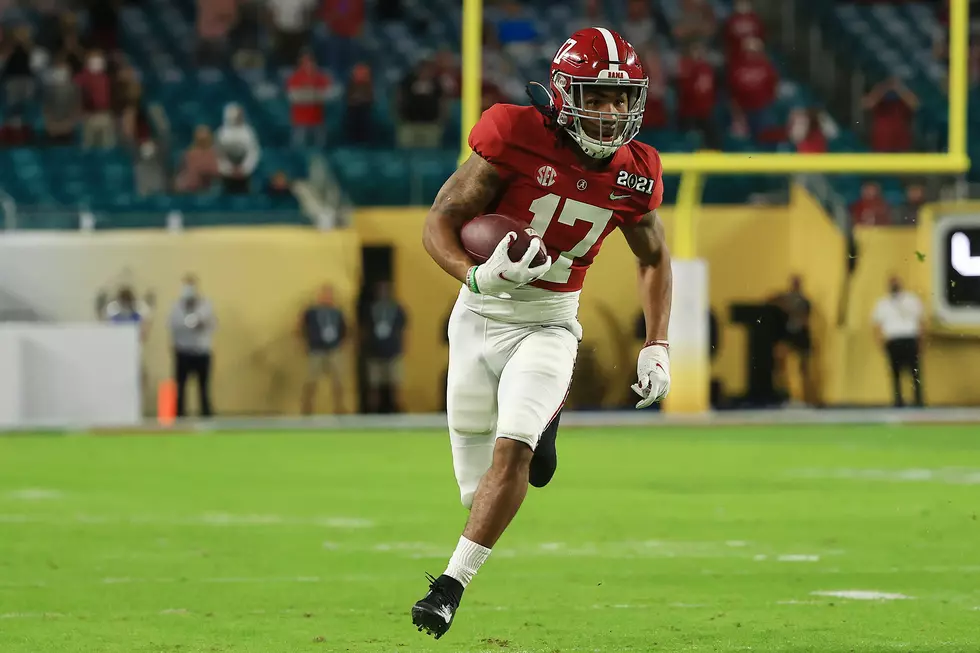 NFL Scout Says Jaylen Waddle is The Best Overall Player in The Draft
Getty Images
With the NFL Draft days away, scouts continue to rave about Alabama WR Jaylen Waddle. ESPN's Jeremy Fowler appeared on SportsCenter Sunday to talk about some of the feedback he is receiving from the NFL.
"I've talked to multiple scouts in this process who said [Jaylen Waddle] might be the best overall player in this draft, regardless of position. He's electric. He reminds them a little bit of Tyreek Hill, with his speed and big-play ability. I've talked to a source who said Waddle believes he's going to go somewhere in the top 10. Not a slam dunk, but he believes it. So if a team wants to trade up for him, they might have to get there."
In three seasons at Alabama, Waddle hauled in 106 receptions for 1,999 yards and 17 touchdowns. He owns three of the top-five longest scoring receptions in Alabama history and averaged 44.53 yards per touchdown catch on his 17 career scores. The Houston native also handled some punt and kickoff return duties. On punt returns, he averaged 19.3 yards per return and scored twice. And on kickoffs, Waddle averaged 23.8 yards per return and scored one touchdown. In 2019, Waddle earned First Team All-American honors as a returner.
Before going down with an injury against Tennessee this past season, Waddle recorded at least 120 receiving yards and had at least one play of 45+ yards in each of Alabama's first four games.
"Waddle is different now. He's like Tyreek Hill in a lot of ways," said an anonymous NFL WR coach. "He's so fast, he's different fast. Henry Ruggs is really fast, but he was more of a straight-line guy. I think (Waddle) could play really any spot; he can play X, Z, slot, in the backfield.
"I think Waddle is a faster version of Peter Warrick. He is so dynamic with the ball in his hands and is such a dangerous returner," said another anonymous NFL WR coach. " I think he could be a Devin Hester as a returner than Hester. He was awesome in his interview. He was awesome in his interview. He really has an infectious personality."
The NFL draft will begin this Thursday, April 29th and air on ESPN.
TACKLE THESE: Check Out the Best Uniforms In Each NFL Team's History
The 10 Greatest Athletes from Alabama