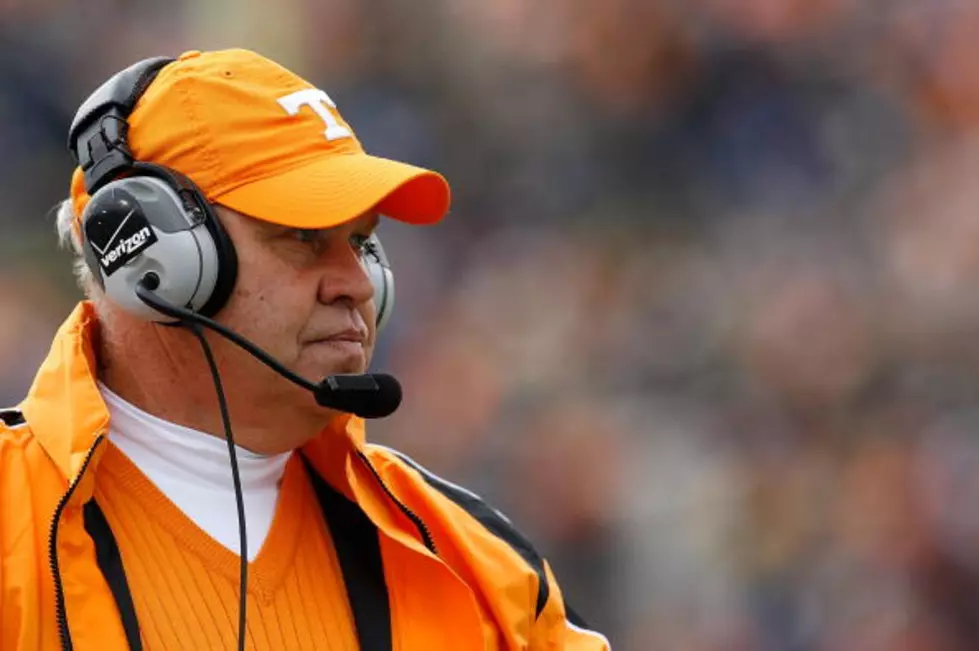 What Was Life Like the Last Time Tennessee Beat Alabama?
(Photo by Kevin C. Cox/Getty Images)
Last year, Alabama was able to mount a slight comeback to take down the Tennessee Volunteers 19-14 in the annual Third Saturday in October. The victory marks the ninth in a row for Alabama, so what was life like when Tennessee last won?
It seems like a lifetime ago: Phillip Fulmer leading the Vols out inside Neyland Stadium in 2006, willing his team to a tough 16-13 win over the Crimson Tide. The starting quarterback for the boys in Knoxville that year? Erik Ainge. Starting running back? Some guy named Arian Foster. Needless to say, that was some time ago.
But forget about the teams: what was life like back in the good ol' days of 2006? Well I'm glad you asked.
- Well, for starters, I was a wee little 11th grader, learning how to drive a stick shift 1991 Toyota Corolla, and hitting the basketball court as the back-up point guard on our varsity basketball team.
- Gas was actually $2.29/gallon, so not much has changed in that regard (in fact, gas was $2.46/gallon last month).
- Matt Damon and Leonardo DiCaprio starred in The Departed, one of the top films of that year.
- The #1 song of 2006? "Bad Day" by Daniel Powter (yeah, I'd completely forgotten about that song too, don't worry).
- The best album of the year? "Boulevard of Broken Dreams" by Green Day won the Grammy for Record of the Year.
- The Crocodile Hunter, Steve Irwin, tragically passed away.
- Saddam Hussein was found guilty and executed.
- And another pop culture reference, just because it'll put everything into perspective: Miley Cyrus made her debut as Hannah Montana on the Disney Channel.
Reminiscing on the good ol' days yet? Well, what happened in the wide world of sports?
- George Mason made their amazing run to the Final Four, but lost to the eventual national champion Florida Gators (in fact, it was the Gators' first ever national championship in basketball).
- Dwayne Wade and the Miami Heat won their first ever NBA Championship.
- The European amateur champion in the world of golf? Some young up-and-coming kid named Rory McIlroy.
- In the 2006 Rose Bowl, Vince Young led the Texas Longhorns to a victory over the USC Trojans, 41-38, in one of the greatest college football games ever played.
- Italy won the World Cup hosted by Germany, but we all remember Zinedine Zidane's headbutt of Marco Materazzi at the end of the World Cup Final between Italy and France.
Needless to say, a lot has happened in nine years, but one thing that definitely hasn't happened is a win for the Vols on the Third Saturday in October.