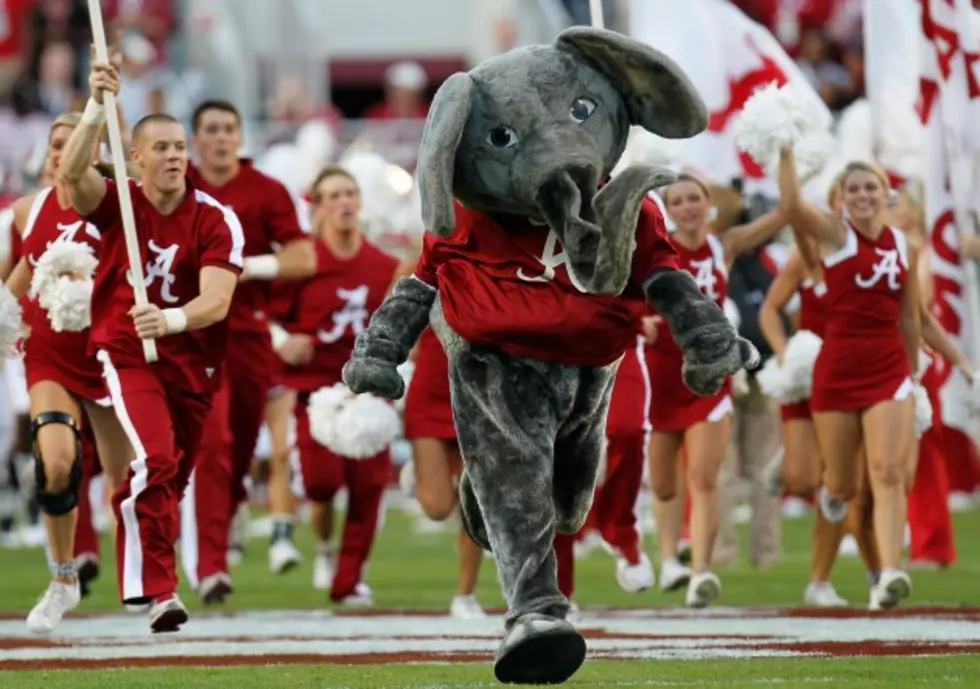 Big Al the Elephant Mascot One of Many Proud Alabama Football Traditions During Homecoming Week
Kevin C. Cox, Getty Images
It is homecoming week in Tuscaloosa!
There are lots of proud traditions associated with the University of Alabama, especially anything involving the Crimson Tide football team -- a tradition that began in 1892.
We have "Rammer Jammer," we have the alma mater fight song, "Yea Alabama," which is sung proudly throughout the south even when it isn't football season. Of course, "Yea Alabama" is played by another tradition at UA, "The Million Dollar Band," which was formed in 1914.
As homecoming 2012 approaches, we can't forget another Alabama tradition, Big Al the elephant mascot.
Where did he come from? What does an elephant have to do with the school?
Some say Everett Strupper, an Atlanta Journal sportswriter, reported earlier this month spectators in the stands in 1930 were saying "hold your horses" since the "elephants are coming" while trampling Ole Miss on the field. Soon, Alabama was being referred to as the "Red Elephants" by other sportswriters.
In the 1940s, UA kept an actual elephant on campus named Alamite that was part of game-day rituals. The homecoming queen would even ride Alamite onto the football field.
In the 1960s, an enthusiastic student named Melford Epsey got into the school spirit and wore an elephant costume to a home football game. You can see where this is headed, right?
In the late 1970s, legendary head coach Paul "Bear" Bryant finally gave his blessing to the official recognition of the elephant mascot, allowing "Big Al" to make his debut at the 1979 Sugar Bowl. In that contest, the No. 2 Alabama defeated top-ranked Penn State to claim the national championship.
And everyone at UA understands just how much of a tradition it is stacking up national titles in football here.
Big Al has continued to inspire fans ever since.
Traditions are strong here in Tuscaloosa. Let's celebrate 'em all Saturday whether it's at the quad, inside Bryant-Denny Stadium or sitting in armchairs in our homes watching the undefeated and No. 1-ranked Crimson Tide host Mississippi State in a 7:30 p.m. matchup that'll be televised live on ESPN.
If all goes as planned, the Mississippi State players should be returning to Starkville, Miss., with elephant tracks on their backs.