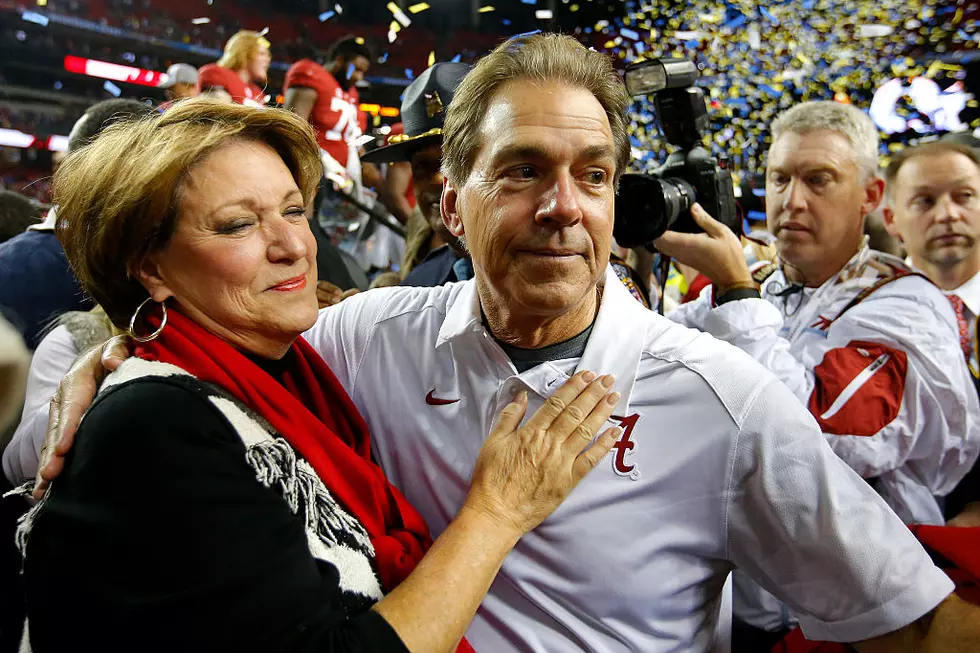 Nominate a Teacher to Get Iron Bowl Tickets from Terry Saban This 'Thank Alabama Teachers Month'
Getty Images
One lucky teacher will score tickets to watch the Crimson Tide take on the Auburn Tigers in Bryant-Denny Stadium at the end of the month, courtesy of the king and queen of Alabama football.
In a video announcement, Terry Saban said she and her husband Coach Nick Saban will give a teacher two tickets to the Iron Bowl courtesy of the Nick's Kids Foundation in honor of "Thank Alabama Teachers Month."
Saban stated any teacher is eligible, regardless of where their allegiance lies as a football fan. She said the tickets are a way to say thank you to teachers who make a difference in the lives of children throughout the state.
"As a former educator, I know firsthand that few people can leave an impact on a child's life like a teacher," Saban said. "Whether they're an Alabama or Auburn fan, it doesn't matter. We're always cheering for teachers."
The Tide is highly favored to handle the Tigers this year, who fired head coach Bryan Harsin earlier this week after he led Auburn to 3-5 start in his second season as head coach. Still, trying to predict the outcome of the annual rivalry game is futile and the Iron Bowl always has the potential to get interesting
To nominate a teacher to win the tickets, visit www.weteachalabama.com. Nominations will be accepted until November 18 and the winner will be announced on November 21.
Top Stories from the Tuscaloosa Thread (10/24 - 10/31)
18 of the Top Stories published by the Tuscaloosa Thread during the week of October 17th, 2022.