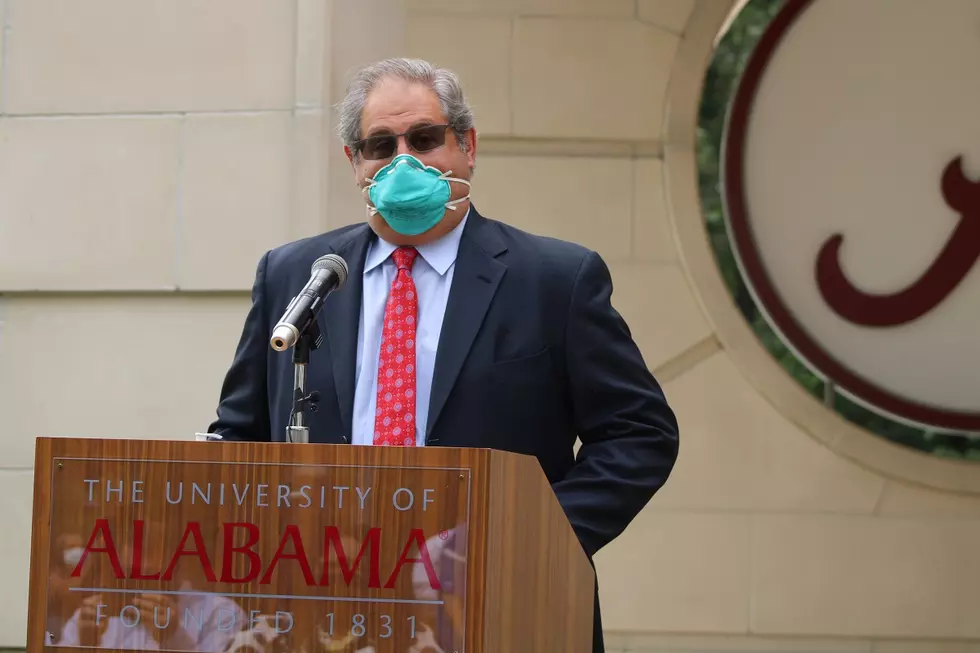 Community Health Sciences Dean: "Nothing Has Gone Wrong" at UA
(Stephen Dethrage)
Dr. Richard Friend, the dean of the University of Alabama's College of Community Health Sciences, said "nothing has gone wrong" on its Tuscaloosa campus Wednesday afternoon in a virtual press conference with area reporters.
Friend was responding to a question about the spike in positive COVID-19 cases among students, faculty and staff in the Druid City, where 1,040 have contracted the coronavirus since classes resumed two weeks ago.
When asked what had gone wrong in Tuscaloosa while the University of Alabama in Birmingham and the University of Alabama at Huntsville each reported only 10 positive cases in the same time period, Friend said nothing – that a case number this high was expected and prepared for.
"I would say nothing has gone wrong," Friend said. "We have the largest campus in the state, we have approximately 40,000 students, 6,000 faculty and staff, and we anticipated the quarantine and isolation space we needed, I think with great foresight, early in June, we also early in June anticipated the great need for rapid accurate testing on a consistent basis and we are able to operate safely with those tools."
Enter your number to get our free mobile app
Friend said he is "cautiously optimistic" that the steps taken by the University administration and municipal leaders in Tuscaloosa are going to have a positive impact on the infection rate on campus, but only time will tell.
"What I see is tremendous effort on everybody's part to mitigate the initial positive cases we've seen on campus," he said. "I remain cautiously optimistic we're heading in the right direction, but truly we're not going to see the results of all our efforts until after Labor Day and possibly the week after that. We know that historically that's how this works."
The System's COVID-19 Dashboard was launched in mid-August and shows the number of coronavirus cases on each of its three campuses, but has only updated once a week, late each Friday afternoon since its inception. By contrast, the Alabama Department of Public Health and the DCH Health System update publicly available case numbers once or twice daily.
Friend did not answer a question about why case numbers in the UA System are shared so infrequently.
"I am only aware that the UA System is updating the dashboard, that's a UA System decision and I support that decision," Friend said. "I would have to defer that question to somebody in the System's office."
He did add that the University's isolation and quarantine space is below 50% capacity.
A major obstacle for the University's fight against the pandemic is that even as cases spike on the Tuscaloosa campus, so far no UA students have been hospitalized with the virus.
Friend said even though students may be disinclined to take COVID-19 seriously, they have to get over that urge and be responsible.
"The students play a critical role in all of this," Friend said. "From an epidemiological standpoint, the 18-25-year-old group is not going to suffer much disease burden, but they will spread the virus and it's incumbent upon every campus member, faculty, staff and students, to practice these guidelines wherever they go."
Friend said he is encouraged by the first two weeks of classes, though, and the progress he's seen so far.
"I do believe that through education, training, reinforcement and enforcement of the proper guidelines that we are making progress on our campus," Friend said. "I'm very proud of the students and the faculty and the administration for the work we're doing."
Watch the full video of the Zoom conference call below.
Top 9 Tuscaloosa Thread Stories of Last Week (8/24-8/29)