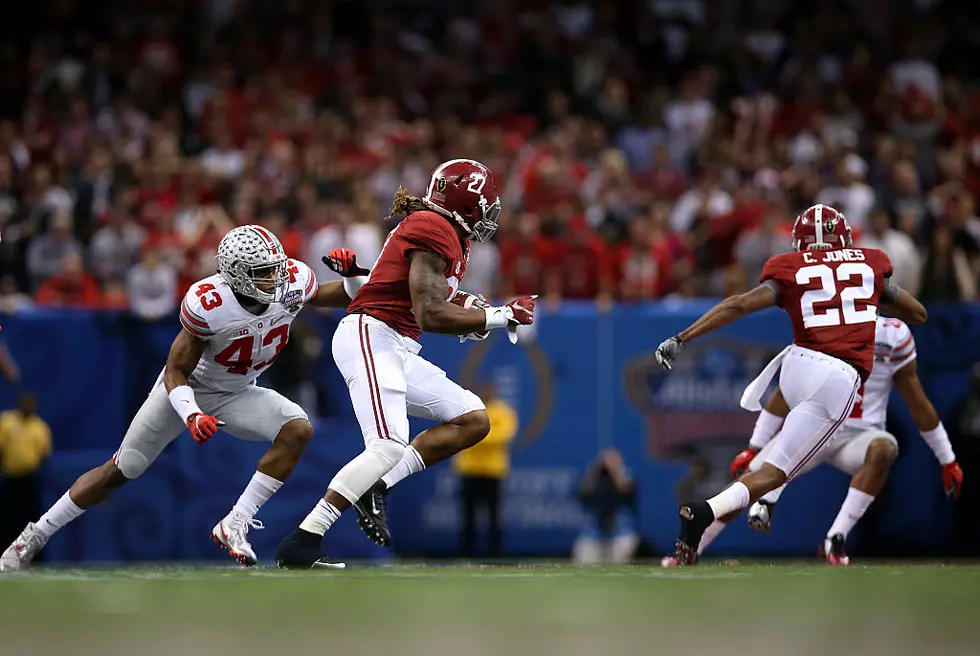 Would The Ohio State Buckeyes Fill the Void Left By LSU?
Getty Images
The COVID-19 pandemic has reared its ugly head in college football this week, forcing postponements and cancellations throughout the nation. The SEC currently has four of its games this weekend cancelled, the Big 10, Mountain West, American and the Sun Belt all have one game not taking place this weekend.
How should No. 1 Alabama stay sharp for the remainder of the season ahead as it navigates an unexpected BYE week? Greg Byrne should call up Gene Smith and schedule a makeshift game with the No. 3 Ohio State Buckeyes.
How unlikely is this scenario, extremely. However it would solve many issues that these cancellations have created.
Alabama hasn't played Ohio State since losing to the Buckeyes in the 2014 CFP Semi-finals in New Orleans. Both school's opponents are dealing with COVID-19 outbreaks therefore causing their game to be put on hold.
Ohio State is 3-0 so far and has four games left on its schedule with No. 10 Indiana being the highest-rated team left to play prior to the Big 10 Championship game. The Buckeyes could prove to the nation that it deserves a spot in this year's college football playoff by taking on the Crimson Tide and putting on a good game.
Alabama was anticipating playing a top team this weekend as LSU has traditionally been a strong program. Unfortunately even if the game were played as scheduled the Crimson Tide would likely not be challenged given the fact that Alabama was a 22-point favorite prior to the cancellations.
Ohio State's diversity on offense could allow the Alabama defense to see if it truly is improved or if the competition has just been weak lately. The Buckeyes feature a dual-threat quarterback in Justin Fields who models as the quarterback that Saban often has trouble with.
Currently, many pundits and voters have Fields and Alabama quarterback Mac Jones as the top-two contenders for the 2020 Heisman Trophy. Playing this exhibition game would allow Heisman voters to see the two premier candidates face-off head to head.
CBS needs a game. It lost its headline program for the evening when Alabama-LSU was postponed leaving it with an empty block of programming to fill. As a television executive would you rather have Arkansas vs. Florida or Alabama vs. Ohio State?
The Crimson Tide and the Buckeyes won't play this weekend but it would be the perfect solution for the teams trying to stay fresh, the television networks needing programming and the fans wanting to see good college football.
Enter your number to get our free mobile app
Top-10 All-Time Rushers