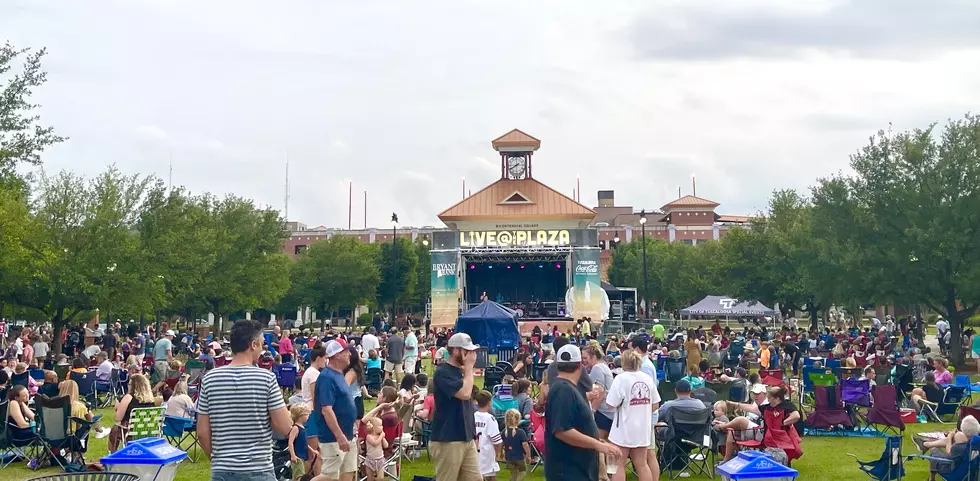 Tuscaloosa Native Shines Bright On Stage During Live At The Plaza
DreDay, Townsquare Media
Every Friday night in June and July the City of Tuscaloosa hosts a live music event on Government Plaza for free. The event is called Live at the Plaza and it's family (and pet!) friendly.
Friday, June 11 was just the second Live At The Plaza event of the year and it featured Tranquility and The John Wilson Band.
There was a segment in the evening where a vocalist joined the John Wilson Band on stage to perform. That vocalist was Tuscaloosa native Kristian Tierre.
Tierre has been performing for a little over a year but during an interview, she stated she's been singing since she could talk.
"This is actually my first large performance here in Tuscaloosa, Tierre said.
"It is an amazing feeling, said Tierre when speaking about her performance.
"It was intimidating at first but once I got on stage, grabbed that mic, and saw the energy, all that fear went out the window."
Kristian performed classic hits from Chaka Khan, Frankie Beverly, Maze, and more.
Her major Live at The Plaza debut came from her name circulating around groups of musicians in the area. Tierre said that she was invited to perform for John of the John Wilson Band a few months ago.
Following her performance, John and Tierre built a relationship and they began working together. Fast forward a few months and they're on stage rocking the Government Plaza.
Tierre offered some advice to up incoming artists in Tuscaloosa saying "Shoot your shot."
She said, "You miss every last one of the shots you don't shoot."
Druid City Arts Festival 2022
Top Stories from the Tuscaloosa Thread (5/31 - 6/6)
17 of the Top Stories published by the Tuscaloosa Thread During the week of May 31st, 2022.
Welcome to Oasis at Keens Mill in Cottondale, Alabama