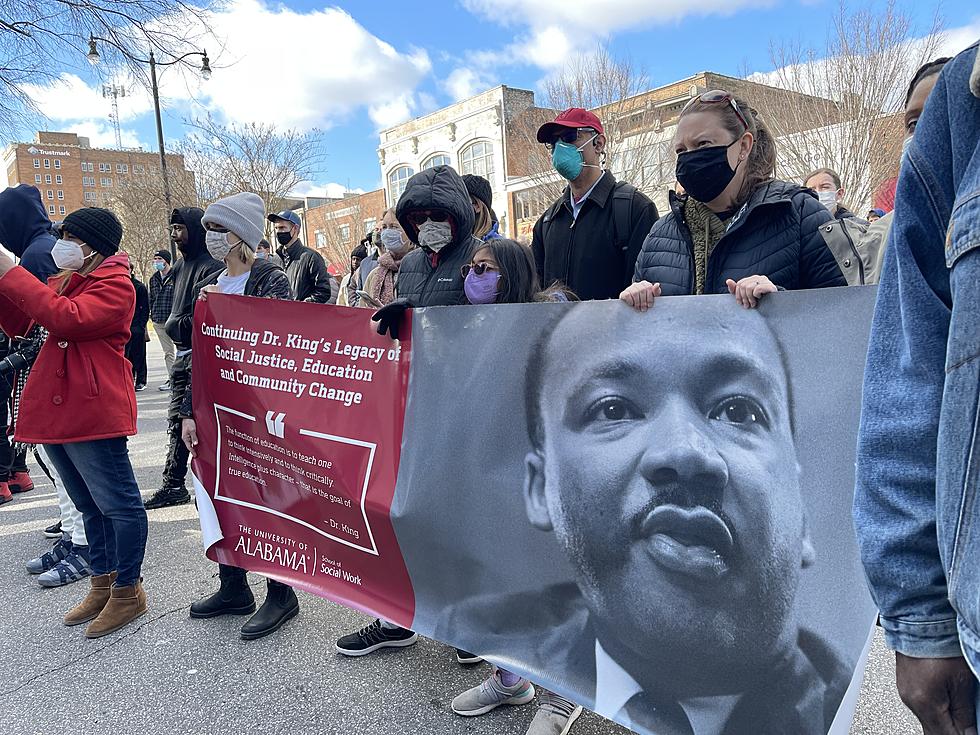 [Photos] Tuscaloosa Mayor Talks Importance of John Lewis Bill At Unity Day
DreDay, Townsquare Media
Monday, January 17th, members of the Tuscaloosa chapter of the SCLC and community leaders and members gathered for the annual Unity Day March.
The Southern Christian Leadership Conference (SCLC) began its annual march at the Beulah Baptist Church and ended at City Hall.
The march included dozens of community organizations, fraternities, sororities, and members of the community who all believe that one day, our community will truly be one.
Pastor James Williams, President of the Tuscaloosa Chapter of the SCLC said that the march is "On behalf of civil rights, voters rights, systemic racism. and to recognize the great work done by Dr. Martin Luther King, Jr."
Hundreds of people gathered with their masks, and signs to march from  Beulah Baptist Church to City Hall where they all gathered to sing hymns and hear words from community leaders including Tuscaloosa Mayor Walt Maddox.
"On this day of recommitment to form a more perfect union, let us recommit to ourselves to do the work that is necessary," said Maddox.
"The most important work that I believe is necessary is to pass the John Lewis Voting Rights Act. The right to vote is fundamental to the foundations of this republic and you can't call yourself a patriot if you're scared of democracy.  Let's recommit on this day to do more to ensure everyone has the right to vote."
The crowd gathered at City Hall erupted into cheers as the John Lewis Voting Rights Bill has been a major topic of discussion relating to civil rights.
If passed, the John Lewis Bill would restore key provisions of the Voting Rights Act of 1965 that have been struck down or weakened by the Supreme Court, and change the way federal courts handle election cases.
Many people held up signs with various messages and phrases related to equal rights. Check out some pictures from the Unity Day March below.
SCLC 2022 Unity Day March
LOOK: 50 essential civil rights speeches
Many of the speakers had a lifetime commitment to human rights, but one tried to silence an activist lobbying for voting rights, before later signing off on major civil rights legislation. Several fought for freedom for more than one oppressed group.
Keep reading to discover 50 essential civil rights speeches.
LOOK: Here are the biggest HBCUs in America
More than 100 historically Black colleges and universities are designated by the U.S. Department of Education,
meeting the definition
of a school "established prior to 1964, whose principal mission was, and is, the education of black Americans."
StudySoup
compiled the 20 largest historically Black colleges and universities in the nation, based on 2021 data from the U.S. Department of Education's
National Center for Education Statistics
. Each HBCU on this list is a four-year institution, and the schools are ranked by the total student enrollment.
."}" data-sheets-userformat="{"2":33554688,"11":4,"28":1}">
LOOK: A history of Black representation in movies