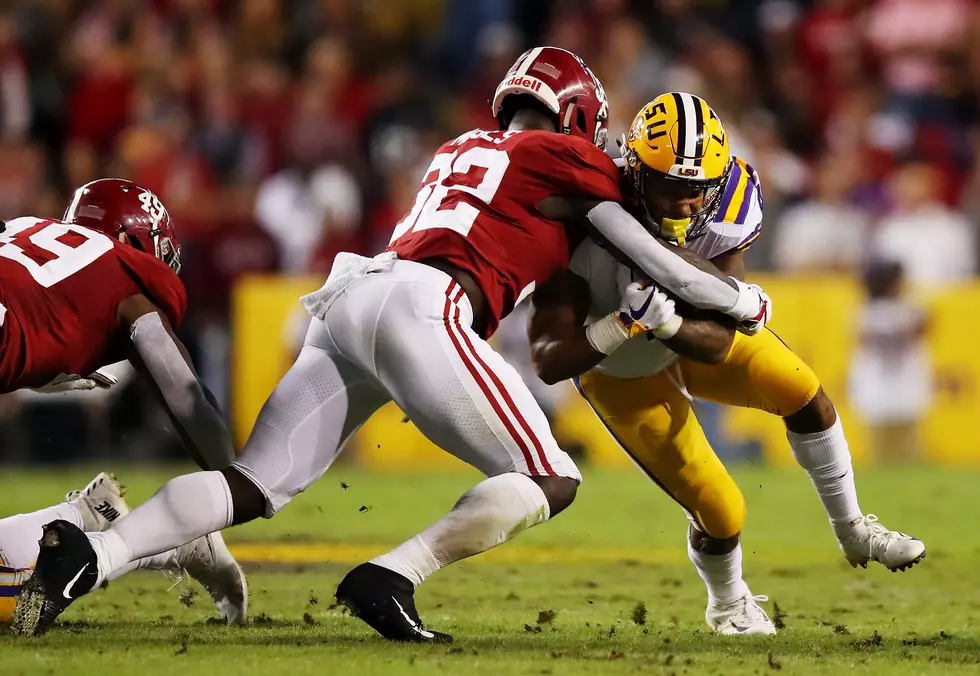 Three former Baton Rouge recruits star on Alabama's Defense
Getty Images
Alabama and LSU have had many recruiting battles in recent memory. The recruitment of players like Landon Collins, Cam Robinson, and Arik Gilbert went down to the wire for the two schools, and both have seen the payouts the fertile recruiting grounds of Louisiana can have. 
That is, unless LSU is recruiting linebackers from their own backyard. 
In the past few years, Nick Saban and the Alabama recruiting staff have almost monopolized the best linebacker recruits from Baton Rouge. When the Crimson Tide take the field this Saturday, three of the top linebacker recruits from Louisiana since 2017 will be starting against the Tigers. 
In 2017, the top linebacker from the state of Louisiana was current Crimson Tide starting outside linebacker Christopher Allen. Allen came from Southern University Lab school, only 10 miles away from LSU's campus. Former Alabama coaches Burton Burns and Tosh Lupoi led Allen's recruitment, and convinced him to commit to the Tide. So far this season, Allen has recorded 20 tackles and two sacks at the SAM linebacker position. 
While technically ending his career at IMG Academy in Florida, Crimson Tide middle linebacker Dylan Moses spent his first few years of high school football at University Lab school, virtually across the street from LSU's campus. Moses first made headlines when he was offered by LSU as an 8th grader. 
He was committed to the Tigers for almost two years, when he decommitted and began picking up lots of attention from Alabama. By his senior year, he was the No.1 linebacker prospect in the country according to 247Sports. After an incredible official visit during Alabama's homecoming game against Kentucky in 2016, Moses committed and four year later, became the leader of Alabama's defense. Already this season he leads the Crimson Tide in tackles with 50, as well as 5.5 tackles for a loss, 1.5 sacks, and 1 interception. 
The third member of the Baton Rouge trio is Christian Harris, the sophomore WILL linebacker. Harris was the top linebacker prospect in Louisiana in 2019, coming out of the same high school as Moses, University Lab. Harris showed little interest in LSU, and actually was predicted to commit to Texas A&M when he made the unexpected decision to commit to Alabama and boost the Tide's No. 1 recruiting class. Harris is second behind Moses in tackles this season, and leads the Alabama defense in quarterback hurries with four. 
Allen, Moses, and Harris join Crimson Tide players like Devonta Smith, Slade Bolden, and Phidarian Mathis as other top recruits to leave their home state for Tuscaloosa. They will get a chance to go home and face their state's premiere team this Saturday when Alabama travels to Baton Rouge to face LSU. 
Enter your number to get our free mobile app
The 10 Best Christmas Songs for Cleaning Your House