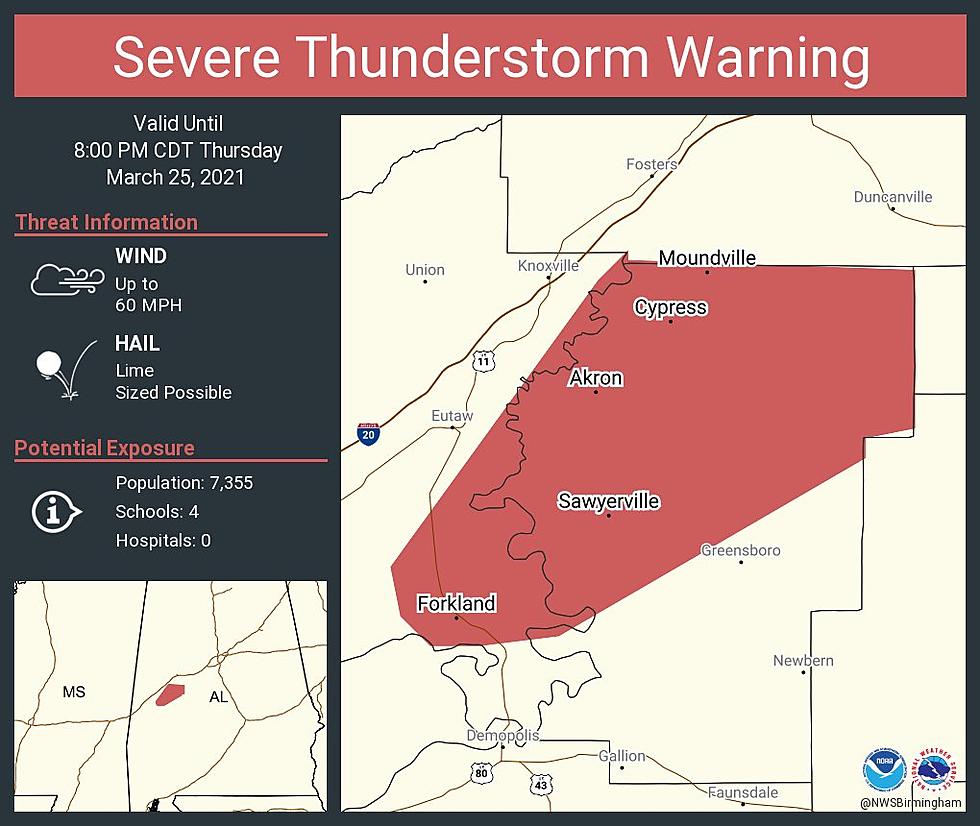 Severe Thunderstorm Warning Issued for Greene, Hale Counties Until 8PM
nws
The National Weather Service in Birmingham has issued a SEVERE THUNDERSTORM WARNING in effect until 8 p.m. for portions of Greene and Hale Counties.
The text of the warning is as follows:
The National Weather Service in Birmingham has issued a

* Severe Thunderstorm Warning for...
  Southeastern Greene County in west central Alabama...
  Hale County in west central Alabama...

* Until 800 PM CDT.

* At 716 PM CDT, severe thunderstorms were located along a line
  extending from near Knoxville to near Tishabee, moving northeast at
  70 mph.

  HAZARD...60 mph wind gusts and quarter size hail.

  SOURCE...Radar indicated.

  IMPACT...Hail damage to vehicles is expected. Expect wind damage
           to roofs, siding, and trees.

* Locations impacted include...
  Eutaw, Moundville, Forkland, Akron, Greensboro Municipal Airport,
  Walden Quarters, Duffys Bend, Sawyerville, Knoxville, Thornhill,
  Wedgeworth, Tishabee, Evansville, Selden Lock And Dam, Moundville
  Airport, Phipps, Eutaw Municipal Airport, Mound State Park, Elliots
  Creek and Birdine.

PRECAUTIONARY/PREPAREDNESS ACTIONS...

A Tornado Watch remains in effect until 800 PM CDT for central and
west central Alabama.

For your protection move to an interior room on the lowest floor of a
building.
Townsquare Media Tuscaloosa's Operation Storm Watch is brought to you by Safe-T Shelter. Visit their website here to see their selection of residential and commercial safe rooms and storm shelters. To contact a Safe-T Shelter representative, click here to visit their Facebook page.
Check out the latest radar models here:
If a tornado warning is issued in our area, Townsquare Media Tuscaloosa Operation Storm Watch will provide you with live and local team coverage, including wall-to-wall weather with James Spann.
To view the latest weather updates and information, click here.
TIPS: Here's how you can prepare for power outages
KEEP READING: What to do after a tornado strikes
KEEP READING: Get answers to 51 of the most frequently asked weather questions...