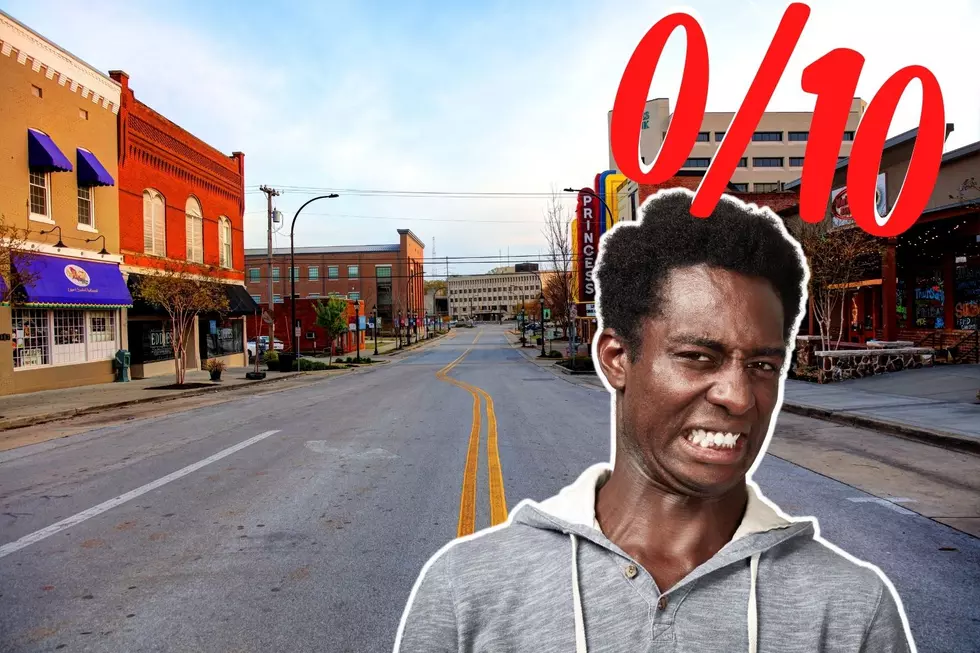 Say What? Alabama Town Named as Worst Place to Visit in the USA
Canva | Jacob Harrison, Townsquare Media
Honestly, I don't know how we got here. An Alabama town was named the worst place to visit in the United States. Mind Your Dollars, listed out 40 cities that are the worst to visit in the United States.
The rationale that placed these cities on the list is that "some places that exist that have less-than-stellar conditions for visiting, such as poverty, high crime rates, and unemployment" and included some are "just not all that exciting," said Mind Your Dollars.
"40 Worst Cities to Visit in The United States" According to Mind Your Dollars
St. Louis, Missouri
Detroit, Michigan
Reno, Nevada
Stockon, California
Memphis, Tennessee
New Haven, Connecticut
Oakland, California
Cleveland, Ohio
Baltimore, Maryland
Chicago, Illinois
Little Rock, Arkansas
Las Vegas, Nevada
Miami, Florida
Houston, Texas
New Orleans, Louisiana
Los Angeles, California
New York, New York
Atlantic City, New Jersey
Hampton Beach, New Hampshire
Bentonville, Arkansas
New Braunfels, Texas
Niagara Falls, New York
Boston, Massachusetts
Salem, Massachusetts
Roswell, New Mexico
Alliance, Nebraska
Orlando, Florida
Ardmore, Oklahoma
Los Alamos, New Mexico
Gatlinburg, Tennessee
Nashville, Tennessee
McLean, Texas
Mitchell, South Dakota
Rehoboth, Delaware
Bloomington, Minnesota
Murfreesboro, Arkansas
Flint, Michigan
Compton, California
Gary, Indiana
Wow, shocking list of cities because of these spots I have visited and had a wonderful time.
Now, here comes the Alabama town that was named.
Decatur, Alabama
WHAT?
I demand a recount of facts. How in the world of ALL the cities in Alabama to pick for this "worst cities" list, they picked Decatur, Alabama?
Explain that to me.
Well, Mind Your Dollars noted about Decatur, Alabama is that it is home to the Point Mallard Water Park. Also, mentioned that it is "touted as the world's first wave pool. However, since Alabama is along the Gulf Coast, you'd think people might want to visit actual waves instead."
So … it gets on the list because it HAS a Water Park?
Dear Decatur, Alabama, we love and you shouldn't be on this list. Period.
(Source) Click here for more from Mind Your Dollars.
Alabama's Most Affordable Places to Live
Gallery Credit: Mary K
Alabama's Top 20 Fastest Growing Cities
Gallery Credit: Mary K
Bring [Fill In the Blank] Back to Tuscaloosa
Gallery Credit: Mary K