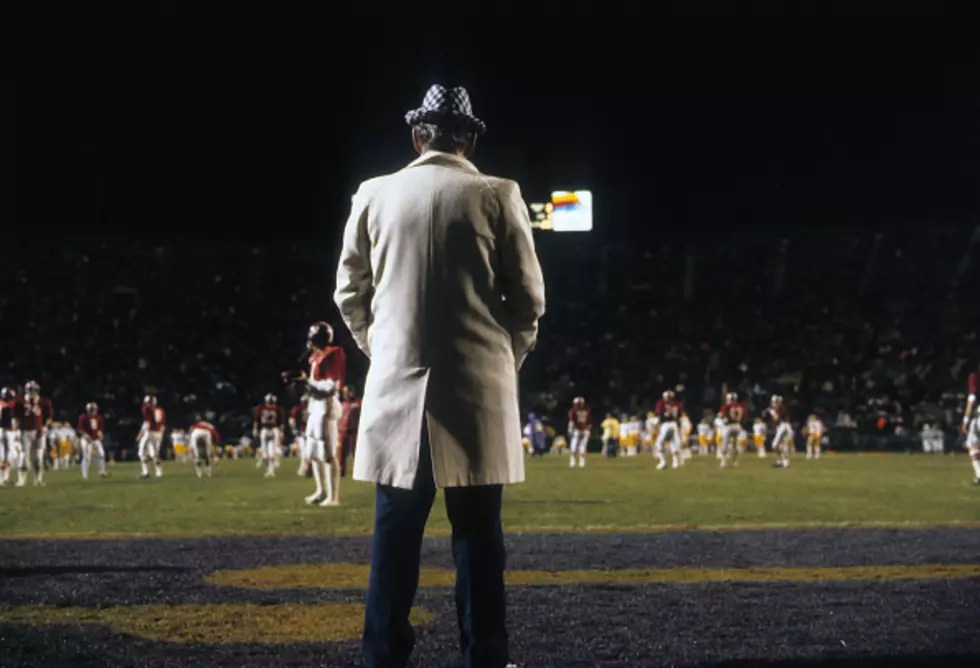 On This Day We Said Goodbye to A Legend: Rest Easy Paul "Bear" Bryant
Sports Illustrated/Getty Images
On this day, back in 1983, legendary college football coach Paul "Bear" Bryant passed away at Druid City Hospital at 69 years old.
Coach Bryant is no doubt a staple in not just the Tuscaloosa community, but Alabama culture and college football itself.
Back in 1933, In the first year of the Southeastern Conference, Bryant helped the Crimson Tide reach the initial SEC Championship. This was just one of many of his legendary college football accolades.
After being the head coach at the University of Maryland, the University of Kentucky, and Texas A&M University, Bear Bryant came home to his Alma Mater to coach the Crimson Tide in 1958.
Coach Bryant was able to deliver the University of Alabama its first AP National Title just three years after his start as head coach in 1961.
Over his 25-year legendary stint as head coach of the University of Alabama, Paul "Bear" Bryant racked up a total of six national titles and finished with a record of 232-46-9.
Considered the greatest college football coach of all time, Paul "Bear" Bryant passed away at Druid City Hospital on January 26th, 1983 after entering the night before with chest pains.
There is no doubt that Paul William Bryant, born in Moro Bottoms near Moro Creek in southern Arkansas left a lasting impact on many football teams, families, and individuals throughout his time in college football.
Known as a master motivator, his many quotes could serve as a life's motto for many.
Rest Easy to college football and Alabama legend, coach Paul "Bear" Bryant. Roll Tide!
To learn more about Paul Bryant's life and legacy, visit the Paul Bryant Museum. 
Famous Fans of the Alabama Crimson Tide
Pat yourself on the back and let out a big Roll Tide! You share a common interest with these celebrities: a passion for Alabama Crimson Tide football!
2022 Alabama Crimson Tide Career Record Book
With another season in the books, new Crimson Tide legends have writ their names in Crimson Flame. This is the 2022 Alabama Crimson Tide Record Book.
Alabama Crimson Tide All-Time Passing Leaders
The 2021 season is in the books and after Bryce Young's Heisman campaign, the all-time passing leaderboard requires an update.