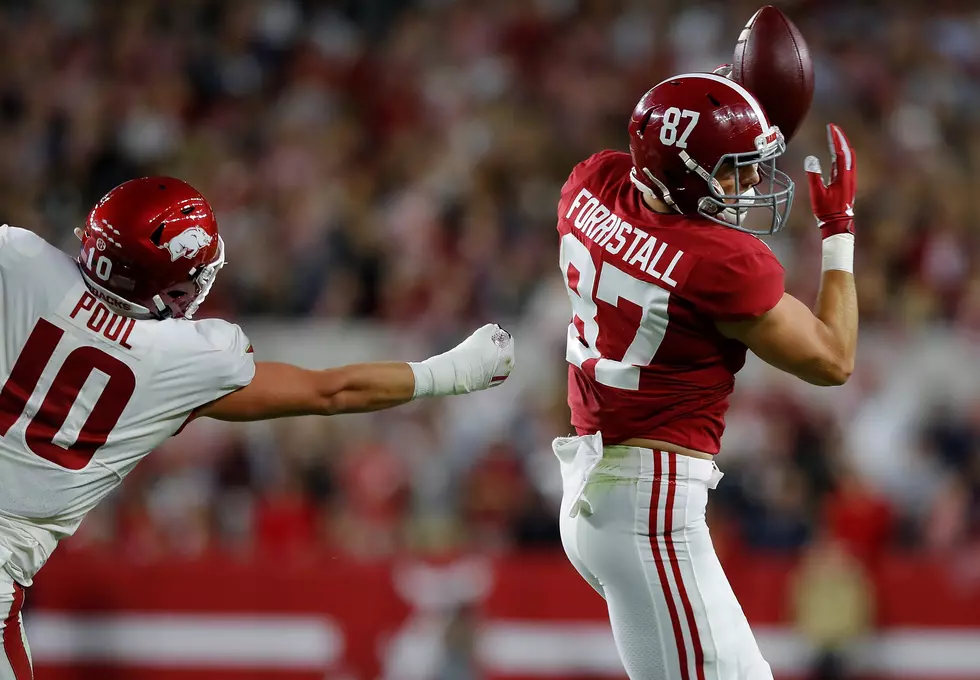 Miller Forristall Headed to the NFL After Hiring Agent
Getty Images
Alabama Crimson Tide tight end Miller Forristall will not take the free year of eligibility from the NCAA. Instead the fifth-year senior will head to the NFL after signing with Steve Caric's sports agency.
Forristall was a fixture all five season in Tuscaloosa, though the 2017 and 2018 seasons for him were cut short by early knee injuries. Still, He played in 24 games over five years totaling 44 receptions for 505 yards and five touchdowns. Solid back to back years receiving and steady improvement will play into Forristall's potential to be drafted in April.
Those knee injuries will be the biggest hurdle for Forristall, especially since he is more of a traditional tight end. Still, the jury is out on where exactly Forristall is projected to hear his name called. Names like Brevin Jordan (Miami) Kyle Pitts (Florida) and Pat Freiermuth (Penn State) will be called earliest and the class as a whole is the strongest the NFL has seen in some time.
Right now, The Draft Network has Forristall ranked 12th among tight ends and 194th overall. However, after the Senior Bowl is generally when TDN and other analysts rebuild their boards.
Speaking of the Senior Bowl, there is still time for Forristall join the crowd in Mobile. He would make the eight Crimson Tide player to join in the week-long senior showcase should he accept a potential invite. The American team has rostered four tight ends while the National team has just three, so a spot  makes sense to be open.
The Senior Bowl would provide Forristall an opportunity to showcase scouts his blocking skills and see his size in person. If the Senior Bowl doesn't call though, Forristall has been pre-emptively selected for the East-West Shrine Bowl showcase game.
Enter your number to get our free mobile app
The 10 Greatest College Football Rivalries