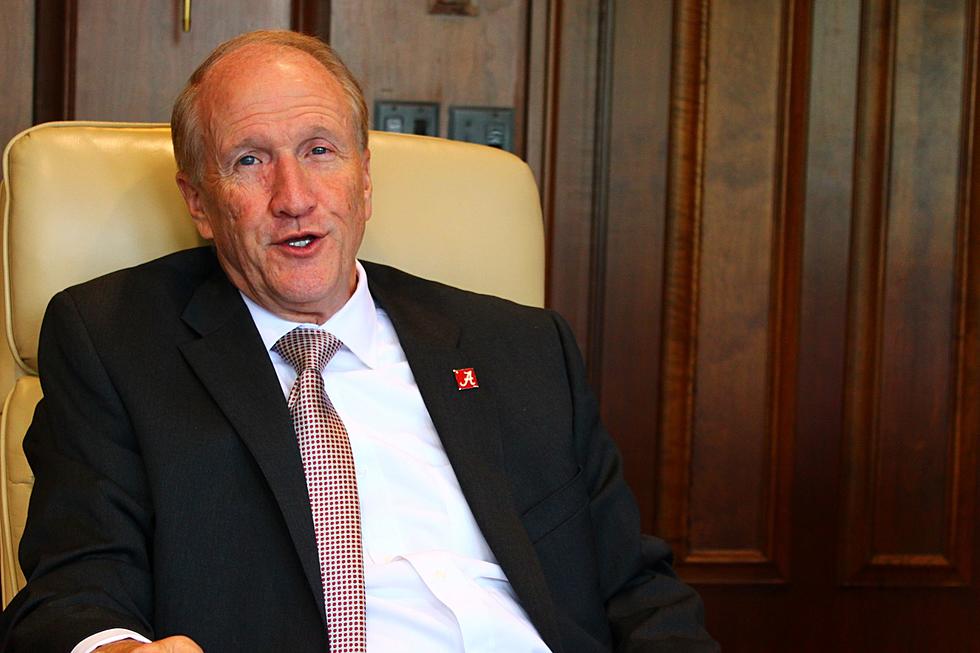 ROLL TIDE: 5 Things to Know As Classes Resume at University of Alabama
(Stephen Dethrage)
Wednesday marked the first day of classes at the University of Alabama, where enrollment numbers are expected to be at an all-time high.
Last week, the Tuscaloosa Thread sat down with UA President Stuart Bell for a one-on-one interview about what students, parents and visitors can expect in Tuscaloosa this year.
This marks his ninth year in the President's Mansion and the Capstone has achieved a great deal during that time, but like his head football coach Nick Saban, Bell is looking to the future, not the past.
"We've never had a stronger Freshman Class, we've never had a stronger student body, we've never had a stronger faculty and our facilities are in such great shape, but we're going to do more," Bell said. "My vehicle has a really big windshield and a small rear-view mirror. So let's keep moving in that direction."
Here are five major takeaways from our interview as classes get back in session across campus on Wednesday.
Another Record-Setting Enrollment
To start, the University's student population is growing again after a slight downward trend that began in 2018 was exacerbated by the COVID-19 pandemic in 2020.
Bell said the University broke its all-time enrollment records last academic year and expects to do so again this year, although those numbers won't be finalized until UA's census a little later this semester.
"Last year, we had a record incoming freshmen - 8,037 freshmen, I think - and overall enrollment was 38,645," Bell said. "Right now we would say we expect to break both of those - which were all-time records - again this year."
It's just a great time to be at the Capstone, Bell said.
"I think the demand for the product that the University of Alabama offers our students both on the academic side but also in all those other elements of student life is well-valued across our country," Bell said.
UAPD Has Grown -- A Lot
The University of Alabama Police Department has also grown substantially year-over-year.
UAPD is the school's fully accredited police department and far more than just campus security guards - their officers are trained and equipped like municipal, county and state law enforcement officers and have full arrest powers.
This year, the University is making a clear investment in the department by hiring several dozen new officers, and paying them noticeably better than any other agency in the region. Officers without any training get a starting salary of $65,000, and anyone who is already APOST certified can start at $71,240 annually.
"We typically employ 70 officers," Bell told the Thread last week. "Already today, we're at 94 officers and we will grow that number to just over 100."
The salaries for those 30 new hires alone will cost around $2 million each year, but Bell said it's well worth the expense.
"It's a very, very substantial investment in that area because we know those officers are important to our students in so many different ways -- this is a very positive development," He said. "The priority of our safety and the public health of our community is always number one, so we want to make sure that we're meeting those needs."
A "Never-Better" Gameday Experience
Bell said students and fans can expect a home football season for the ages and steps have been taken both inside and outside Bryant-Denny Stadium to make it better than ever.
"If you've been waiting for THE home season in Tuscaloosa, it has arrived," Bell said. "It's like we're going to host the Super Bowl every other week here at the University of Alabama."
Home opponents include the Texas Longhorns, the Ole Miss Rebels, the Tennessee Volunteers and the LSU Tigers, and Bell said the University is ready to receive them.
"I don't know if you've heard. but we've got a brand new field that we've installed over this summer season and a lot of efforts have gone into upgrades to Bryant-Denny Stadium to welcome all these groups onto campus," Bell said. "A lot of planning has gone not just into improved safety but also on convenience features. Concessions were something we focused on and we have a good plan on that. I think you'll be able to get a hot dog and a Coke for a good price at the University this year."
Crews Complete 29 Summer Construction Projects
Brutal heat in Tuscaloosa never stops the University's construction teams from getting a lot done while most students are off campus for summer break, and Bell said this year was no exception.
"We are finishing 29 construction projects this summer to get ready for classes beginning," Bell said.
The timelines for these projects are tight, he said, but the University crews get it done.
"Drummond-Lyon Hall - that's the home for the new fashion design project - we're pouring the concrete steps going up to it today," Bell said last week. "It will be ready for move-in, for students to take all their classes when classes start Wednesday."
Alston Hall got a $10 million renovation this summer, and a brand-new drive-thru Starbucks is open on University Boulevard.
"There's a lot going on on this campus," Bell said.
High Costs Still Stall Coleman Coliseum Replacement
One construction project that is notably not advancing is the replacement of Coleman Coliseum with a new, 10,400-seat athletics arena approved by the UA System Board of Trustees in early 2022.
Bell said construction prices have spiked since then, and UA is waiting to move forward on that project until they can do so for something closer to its $183 million budget.
"What an exciting project that is, but we have to make sure the timing is right," Bell said. "It is amazing - and not in a positive way - what has happened to construction prices over the last two years. We continue to work towards that project but there are some hard points there, some hard parts we're going to have to be able to address."
Bell said even though the project remains delayed, he understands how important it is to basketball and gymnastics fans and more.
"There's a lot of excitement for that, but we know we've got to get in a better spot for construction costs. Anytime you start a project, you've got to be able to finish that project and we need to make sure that's what we do here, too," Bell said. "I will tell you, the fan base response and donor support for that project are remarkable. There's a hunger to make sure that we meet the needs of those sports in the same way that we've done in many other venues on campus."
---
For more coverage of the University and the region's most relevant news, stay connected to the Tuscaloosa Thread.
Restaurants and Retailers Who Opened, Announced or Moved in 2023
A running list from the Tuscaloosa Thread of all restaurants and retailers who have opened, announced plans to come to the area or relocated so far in 2023.
Top Stories from the Tuscaloosa Thread (8/14 - 8-21)
16 of the Top Stories published by the Tuscaloosa Thread during the week of August 14th, 2023.