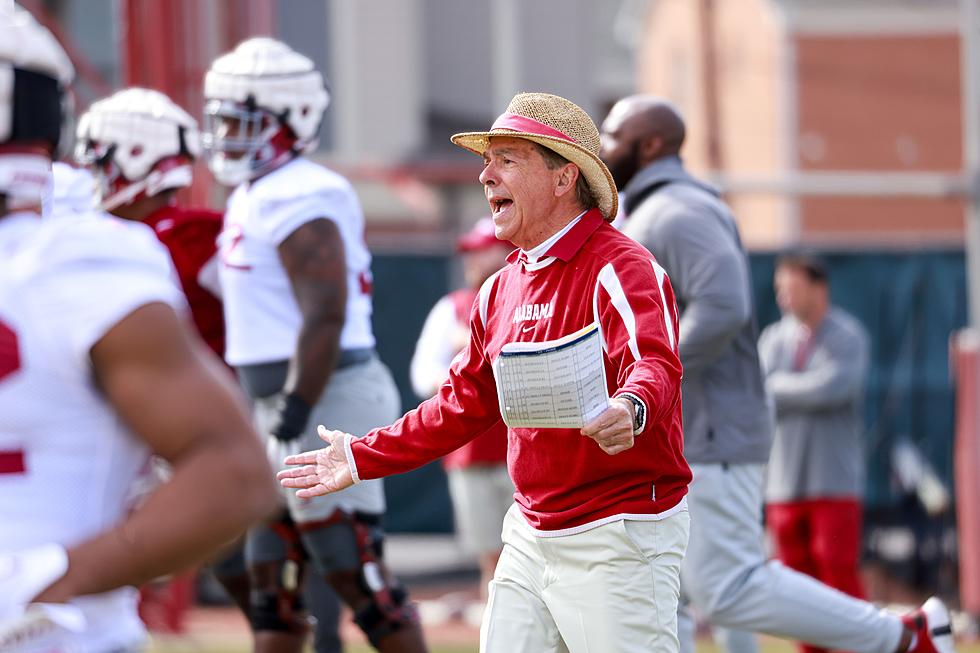 What Did Nick Saban Say After Saturday's Scrimmage?
Crimson Tide Photos / UA Athletics
The Alabama Crimson Tide held its second scrimmage of the spring season on Saturday. The Tide, now halfway through the spring practice season, is embracing a season of transition under Nick Saban.
The seven-time national championship winning coach met with the media after the closed scrimmage and gave a few details about what transpired inside Bryant-Denny Stadium.
---
Open
"I think we made progress. I think we made improvement. I think one of the things that's always hard to judge when you're playing against yourselves – what's good for one team is not so good for the other. You're playing against each other, so when one team makes a play, it's good for that team but the other team maybe didn't execute as well as they should. We had some good plays, and we had some bad plays. There's a lot of opportunities to learn. I think the most important thing is everybody assesses where they were a week ago, how much improvement did they make, what do they need to do to continue to improve, and these two practices before we head to A-Day this weekend, which I'm sure our players are all excited about that game and the energy and enthusiasm our fans show for that game is always something that excites the players and excites me. We wanna have a great turnout for that.
"We just were a little up and down today. Like the good plays were really good, but some of the bad plays were really not what we wanted. But it will create an opportunity for us to make some corrections, continue to try to develop the kind of competitive character that we need. I think every player's gotta challenge himself to give great effort, sustain and try to finish every play and be accountable and responsible to do your job and then we can eliminate some of the mental errors and some of the negative plays. I've said this before – sometimes you've gotta eliminate the bad before you can really evaluate the good because sometimes the bad plays get you beat. And that's one thing that you wanna eliminate before you have a chance to win."
On how the quarterbacks looked today, progress they made from last week.
"They both made some good plays, but they also both made some plays that they probably wish they would have had back. But they're making progress. They're improving. I think that they're developing some confidence in the offense in what they're supposed to read and what they're supposed to do. I thought we were a little up and down today. I think we made some really good plays, but I also thought we made some maybe mistakes that we need to eliminate."
"CJ's done a really good job. He was having a little ankle sprain or foot sprain or something for a while and missed a little bit, but I think he's gonna be a good player for us. He's a good competitor. He can do all three things you want him to do at tight end, whether it's playing the C area, be an H-back type of blocker or split out and be a good receiver. We're excited about him and the contribution he can make. And that whole tight end group this spring has really – Danny Lewis has really made a lot of progress. Amari (Niblack) has made a lot of progress. That whole group has really made a lot of improvement. Robbie Ouzts is not out there because of injury, but I've really been encouraged by how that group has improved and progressed."
On minimizing penalties, increasing turnovers Saturday.
"We got a few more turnovers today, which last week, we didn't get any – we got one, I think. Today, we got four or five. But that goes back to the same old thing. We're preaching ball security to the offense, so if we gave up the ball, it's good for the defense, bad for the offense. So ball security becomes an issue that we have to focus on, whether we're throwing it, whether we're catching it, whether we're running with it, whatever it is. We've just gotta keep working on it. We do turnover drills every day, so we'll just keep working at it."
What he's seen from Justice Haynes.
"Justice has had a great spring. He's a really good player. He's a really mature guy. He's really smart. Nothing's really too big for him. He goes out there and competes, and if you are just a guy sitting on a log watching, you would never know he's a freshman. So he's a very talented guy. He can make cuts. He can make you miss. He's got some power, good speed. He's a good receiver. So he's done a really, really good job all spring."
How effective is Ty Simpson as a runner when protection breaks down?
"He can move. He's a good athlete. He can make plays with his feet. I think Jalen is probably really special when it comes to that because of his speed. But Ty does it really well. He's a good athlete. He can run. He ran the ball a lot in high school. He's tough, and he makes pretty good decisions when he's running the ball. 
"I think one of the things when it comes to a situation like that, players have to understand, is this a good time to run or not? Like we did some two-minute today, and guys were running where we'd be better off if they'd throw the ball away because we're just wasting time, really.  So I think situationally, we can probably do a little bit better job of making decisions of when we use our feet to make plays, and when it's better to give up on the play and have another chance to make a play the next play—especially in two-minute situations."
Who's stepping up in leadership on offense?
"You know, leadership, the offensive line has probably done the best job of, I think, on our team of sort of creating the type of toughness, the type of intangible character that we'd like our team to play with. There's Booker, JC, the two centers, all those guys I think have done a really good job impacting it.
"I think the way the running backs play, the competitive character that they play with impacts a lot of people on the team. I certainly think Kendrick Law is one of those guys that's kind of a tough, hard-nosed, play hard guy all of the time, and I think he impacts the receiver group. So I think there's quite a bit of guys on offense that are contributing to develop the kind of chemistry, character that we'd like to have on the offensive side of the ball."
Development of Kristian Story.
"Kristian's been in the program for a long time. I think that he knows what he's doing. I think, you know, he's got to learn how to play with consistent, high level of intensity, so that he can execute to his capabilities. He's got really good ball skills. He's very instinctive, so we just want to see him sort of have the kind of juice that a starter needs to have all the time. I think that's the expectations that the other players would have and certainly the expectation we have for anybody who is a starter. You've got to prove that you can do that every down. It doesn't matter how you feel, you've got to choose to do it."
How much has Milroe improved on pocket awareness since last season?
"I think that he's making progress. I think the more experience he has, the better he's going to get at those type of things. I think one of the things we really try to emphasize is two hands on the ball. I didn't think his pocket awareness was bad last year. I think his ball security was not what it needs to be. Sometimes when he moved around, you've gotta have two hands on the ball, so they can't knock the ball out of your hands. So that's something we worked on really hard so far this spring."
How well did team maintain intensity?
"It was a little more difficult to do today because the conditions were warmer, more humid. But I think the guys really tried. That was one of the challenges we had for them today. Can you give effort? Can you sustain and finish plays? And can you stay focused so you can execute and do your job? I'm sure we had some guys that got tired out there, but they tried to push through it."
---
The Crimson Tide handles its final week of spring practice this week. Alabama will conclude its spring practice sessions with A-Day on Saturday, April 22.
First Day of Spring Football Practice 2023
Photos from the first day of spring football practice, March 20, 2023.
Alabama Crimson Tide in Super Bowl LVII
Here are the best shots of former Tide stars Jalen Hurts, Landon Dickerson, Devonta Smith, and Josh Jobe in Super Bowl LVII. All four men played for the Philadelphia Eagles, who came up just short in one of the most competitive Super Bowls of all time, falling to the Kansas City Chiefs 38-35 in the waning seconds of the game.
Crimson Tide Class of 2023 Commits
A look at all Alabama commits from the class of 2023.