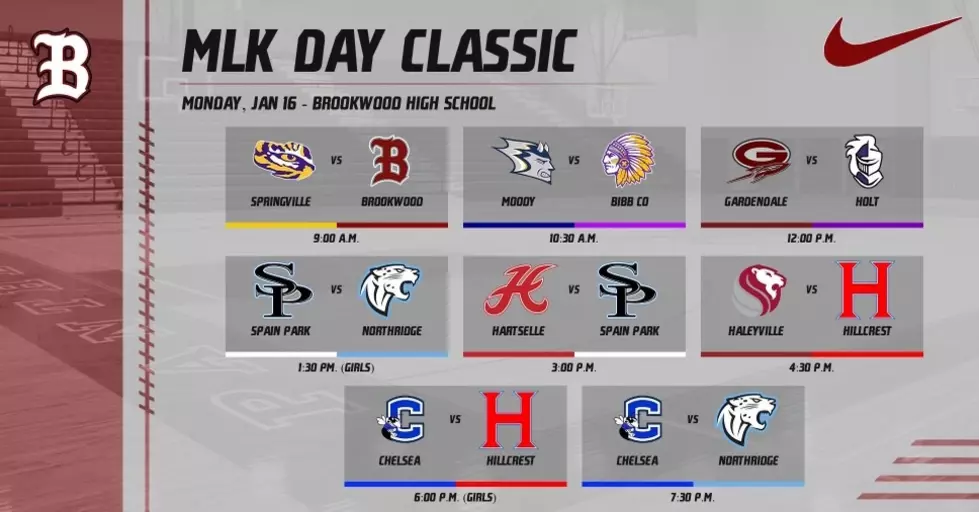 Community Set to Compete in MLK Day Classic
2023's Brookwood MLK Day Classic
Brookwood High School is set to host a basketball challenge on Martin Luther King, Jr. day for a second year in a row. The challenge event will feature schools from across the state of Alabama.
Last year's event was promoted as Birmingham versus Tuscaloosa. After a great community reception and interest from more teams, the challenge has grown beyond that.
"We had it pegged as a Birmingham versus Tuscaloosa challenge. That kind of expanded this year. We had quite a few teams outside of those two areas that were interested and we just kinda opened it up and decided to make it just an MLK day event," said Joe Childers, Brookwood's boys basketball coach, during the weekly Brookwood segment on Inside the Locker Room with Wimp and Barry Sanderson. "We're excited to have quite a few schools coming to campus this year."
Brookwood will play host to the Springville High School (Springville, Ala.), Moody High School (Moody, Ala.), Northridge High School (Tuscaloosa, Ala.), Bibb County High School (Centerville, Ala.), Holt High School (Holt, Ala.), Gardendale High School (Gardendale, Ala.), Spain Park High School (Hoover, Ala.), Hartselle High School (Hartselle, Ala.), Haleyville High School (Haleyville, Ala.), Hillcrest High School (Tuscaloosa, Ala.), and Chelsea High School (Chelsea, Ala.) boys basketball teams.
Within the girls bracket, Brookwood will Host Chelsea, Hillcrest, Spain Park, and Northridge. The girls matchup between Chelsea and Hillcrest promises to be a very competitive game between two evenly matched, talented, and well-coached teams.
Tickets to the MLK Day Classic can be purchased at the door for $10 or through GoFan.com for the same price.
Northridge vs Central 2OT
Paul Bryant Defeats Hillcrest
Aliceville vs Hale County