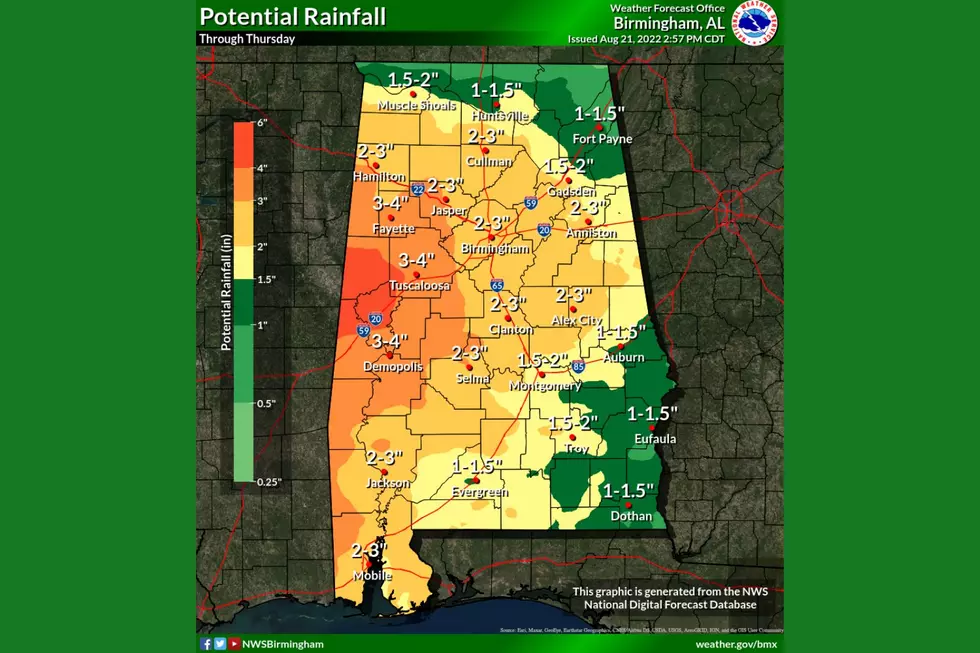 Heightened Rainfall Expected This Week for West, Central Alabama
National Weather Service
Alabamians should prepare for heightened rainfall in West and Central Alabama. The National Weather Service in Birmingham notes that a "weather pattern conducive to a heightened coverage of showers and storms, occurring in waves, over the coming days."
Flood Advisory Info [THIS HAS EXPIRED]
FLOOD ADVISORY IN EFFECT UNTIL 4 PM CDT THIS AFTERNOON...

* WHAT...SMALL STREAM FLOODING CAUSED BY EXCESSIVE RAINFALL IS 
  EXPECTED.

* WHERE...A PORTION OF CENTRAL ALABAMA, INCLUDING THE FOLLOWING 
  COUNTIES, FAYETTE AND TUSCALOOSA.

* WHEN...UNTIL 400 PM CDT.

* IMPACTS...MINOR FLOODING IN LOW-LYING AND POOR DRAINAGE AREAS. 

* ADDITIONAL DETAILS...
  - AT 1253 PM CDT, DOPPLER RADAR INDICATED HEAVY RAIN DUE TO
    THUNDERSTORMS. THIS WILL CAUSE SMALL STREAM FLOODING.
  - SOME LOCATIONS THAT WILL EXPERIENCE FLOODING INCLUDE...
    NEW LEXINGTON, WINDHAM SPRINGS AND STONE WALL.


PRECAUTIONARY/PREPAREDNESS ACTIONS...

TURN AROUND, DON'T DROWN WHEN ENCOUNTERING FLOODED ROADS. MOST FLOOD 
DEATHS OCCUR IN VEHICLES.

Where:
While periods of rain will occur across Central Alabama, the threat of flooding appears to be focused on areas near and west of Interstate 65 at this time.
When:
Tuesday through Thursday.
Threats:
Isolated flooding of low-lying, poor drainage or urban areas may occur.
The National Weather Service in Birmingham, also mentioned that Some forecast models are now suggesting an axis of higher rainfall totals could nudge into parts of Central Alabama from the west. Should this scenario materialize, instances of flooding may occur, particularly for already soggy areas that experience additional heavy or repeated rainfall."
(Source) Click here for more from the National Weather Service.
The 100 Best Places to Live on the East Coast
The 100 Best Places to Live in the Midwest
KEEP READING: Here are the best places to retire in America