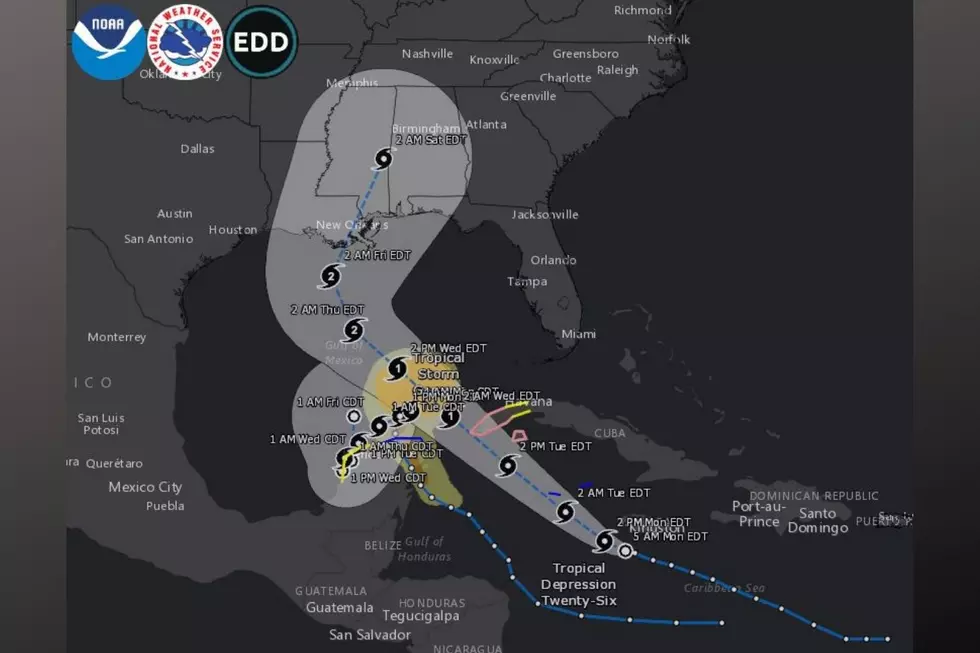 Northern Gulf Coast Anticipates Another Hurricane by Friday
National Weather Service
Enter your number to get our free mobile app
Update as of October 5, 2020 at 7pm
Tropical Storm Delta has strengthened into a Hurricane.  The current track has Delta moving West-Northwestward.
The National Hurricane Center reminds us that "while there is large uncertainty in the track and intensity forecasts, there is an increasing risk of dangerous storm surge, wind, and rainfall hazards along the coast from Louisiana to the wester Florida Panhandle beginning Thursday night or Friday."
(Updated at October 5, 2020 at 7 a.m. updated to reflect upgrade to Tropical Storm)
(first story on October 5, 2020 at 6 a.m.)
We are closely monitoring Tropical Storm Delta because of its impending threat to the Northern Gulf Coast. Tropical Depression 26 developed into Tropical Storm Delta this morning a little bit before 7 am.
The current tracking projects Tropical Storm Delta to make landfall between Pensacola, Florida, and Lake Charles, Louisiana. This includes the coast of Alabama, which has already been impacted by Hurricane Sally in mid-September.
It's still very early in the prediction stage of an exact landfall because of many variables.  It is moving at 9 miles per hour in a west-northwestward fashion. I expect that Tropical Storm Delta will be moving into the southeastern Gulf of Mexico by Tuesday night or Wednesday morning with a faster northwestward motion.
Tropical Storm Delta is likely to strengthen as it moves over the northwest Caribbean Sea. There are warnings and watches issued for the Cayman Islands and Western Cuba. The concerns are storm surge, rainfall, and wind.
Impact on our listening areas
The National Weather Service in Birmingham noted on their Facebook Page that "right now we're too far out in time to pinpoint Central Alabama impacts. We should get a better idea/gain confidence over the next couple days."
I will continue to monitor and bring you updates about this tropical storm.  - @MaryKRadio – Weather Forecaster
(Source) To follow the Facebook page of the National Weather Service Birmingham, click here. For more from the National Hurricane Center, click here.
Hurricane Terms You Need to Know