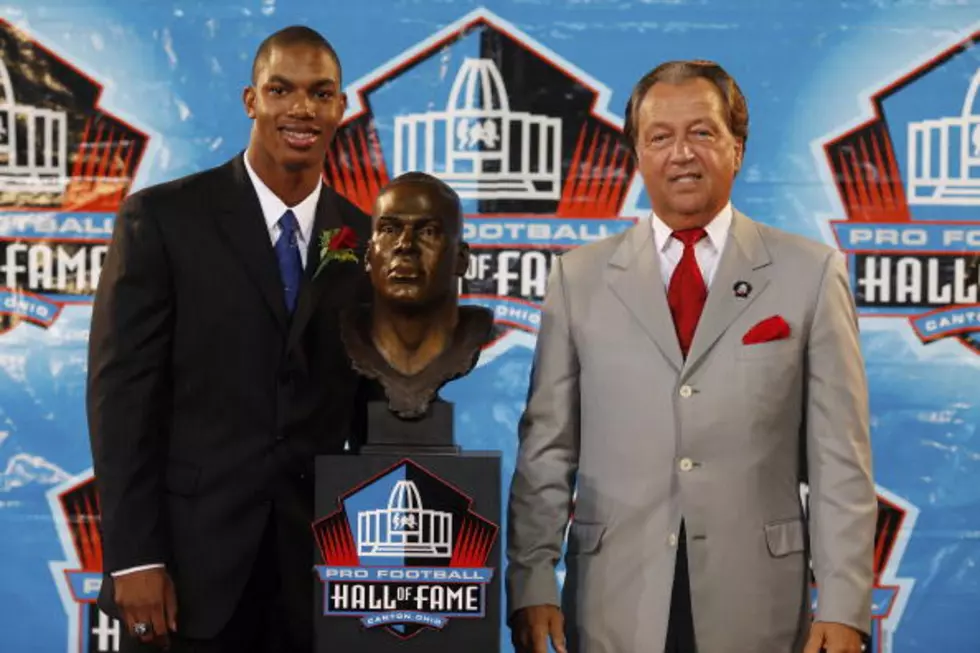 Lasting Legacy: Making an Argument For Derrick Thomas' Induction Into The College Football Hall of Fame
(Photo by Joe Robbins/Getty Images)
Many great college football players have stepped on the gridiron to show their pride and dedication for a sport loved by so many. Alabama has had its fair share of legendary players like Joe Namath, John Hannah, Don Hutson, and Kenny Stabler. One legendary player that stands out above the rest for his talents on and off the field is former Alabama and Kansas City Chiefs linebacker Derrick Thomas. Thomas had the innate ability to terrorize quarterbacks and dominate his opponents with a motor that never ran out of gas.
Thomas was a consensus All-American for the Crimson Tide in 1988, winning the Buktus Award that same year. His career ended with an NCAA-record 27-sack season that still stands to this day. The dominance continued into the NFL, where he totaled 126 career sacks and played in nine Pro Bowls. He still owns, quite possibly, the best single-game performance ever when he sacked former Seattle Seahawks quarterback Dave Krieg seven times in one game.
Sadly, Thomas tragically died in 2000 from injuries sustained in a car accident. And in 2009, his career was enshrined in the Pro Football Hall of Fame.
One honor that the Miami native has yet to receive is induction into the College Football Hall of Fame. For the fourth consecutive year, Thomas will be up for a vote as 
one of 75 players on the ballot
. The criteria needed to be inducted has not only been met, but exceeded. One can not immediately be chosen for the Hall of Fame, but his induction is long overdue. So why has he not been inducted?
He played in an era that was dominated by the run but still managed to put up statistics that future generations will find hard to believe. His athletic ability often overshadowed the good deeds he did off the field once he made it to the NFL.
In 1990, Thomas founded the Third and Long Foundation, a program designed to help children fight illiteracy and make them stronger students. Three years later he was awarded the Walter Payton NFL Man of the Year Award which is given yearly to honor a player's volunteer and charity work.
Through his charity work, Thomas helped countless number of children while inspiring his own. Derrion Thomas, Derrick's oldest son, has continued to help others and has seen first hand the impact his father had.
"I have been able to to do some things for charity foundations and kind of understand how he impacted people's lives," Derrion said. "That has had a huge impact of how I live my life right now."
Inspired by his father's number, Derrion Thomas founded 58 Fitness, a company designed to motivate people to stay in shape and eat healthy. That number has since been retired by the Chiefs. Derrion hopes he can make the same impact his father made.
"He was really instrumental as far as starting (58 Fitness) because this is an avenue for me to change people's lives. Hopefully I can help save someone's life who maybe isn't healthy or doesn't have that feel good sense about themselves. Now that I am older I see some of the people that were in his events and charities throughout the years and seeing people who say, 'Hey man your dad changed my life.' I wouldn't have been where I am now if it wasn't for him."
Everyone has imperfections and often times people such as Derrick Thomas are judged by those, but Derrion believes one must look deeper to get the full story.
"A lot of what people have said, even with the NFL Hall of Fame, is that is his life off the field wasn't what most people would see as acceptable. But you really have to look a lot deeper than that to see what kind of person he was because his contributions to his community and the people around him was much greater than any minor screw-up he might have had in his daily life. You have to pull back and see the big picture of who he really was instead of people nagging on the little imperfections he had."
Derrion, like many others, knows his father has earned the right to be inducted into the College Football Hall of Fame.
"He is very deserving of it and I think it's a little bit overdue when you talk about a person that changed the game when he was on the field. He is close to the top of the list of a person who could take a game and turn it around."
No one can guarantee when the man known simply as DT will be inducted into the College Football Hall of Fame, but his son feels that it will be soon.
"If it doesn't happen this year, we will push for it next year. I feel very strongly that this will be the year."
The efforts made by fans of the late Thomas have been relentless. Derrion and his family have seen constant support since his father's death.
"It is good to see that people still see his legacy as something that should be held up and pushed on to further years. It's been constant support and it makes you feel great about the person he was and what he did."
One thing that is certain: Derrick Thomas deserves the honor now. He was a dominant force on the field and a loving character off of it. Although his NFL stats don't factor into College Football Hall of Fame, it should be put into consideration that he continued to impact countless lives as he continued to play.
He will always be looked as one of the best defensive players of all-time regardless of the upcoming vote, but the Hall of Fame  will remain flawed until Derrick Thomas becomes a member.