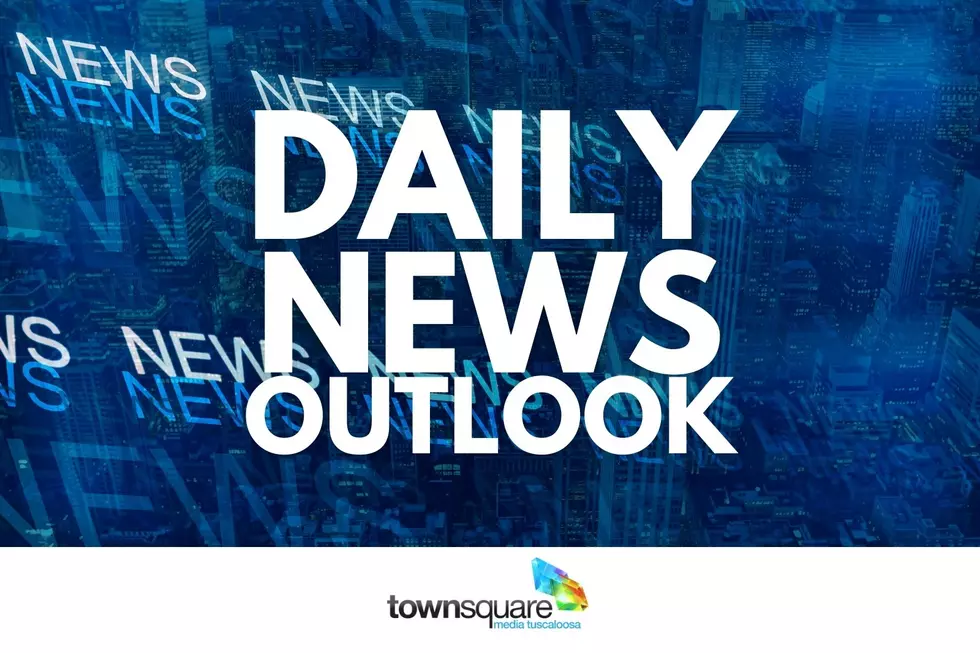 West Alabama Thursday Briefing
Canva
It is Thursday, November 9,2023. There may be some good weather news for much of the state over the next few days. Rain estimates have risen to at least an inch today through Sunday. That won't put an end to the drought, but it should curtail the growing wildfire threat and end, at least for now, the worsening of drought conditions.
The current soundtrack for the news could be Arthur Brown's 1968 rock hit "Fire". A day after a 125-acre blaze burned two mobile homes, one taking the life's possession of one family, firefighters have been battling another woods fire on 69 south, near the 134-mile marker. No structures have been impacted.
Computer models are now showing we may get a little more rain than expected today through Sunday and again toward the end of next week. Up to at least an inch is expected tonight through Sunday. It will not be enough to end the drought, but it could at least keep it from worsening and help curtail some of the wildfires.
The Forecast: 
Today: Variable cloudiness with a couple light showers possible generally northwest of Birmingham and Tuscaloosa during the afternoon. Best chances will be the far northwest after 3 PM. High temperatures will be in the 70s north to low 80s south due to the cloud cover.
Tonight: Rain showers continue to slide south and east through the night. Best chances will be north of Interstate 20 with rain possible for the remaining counties of West Alabama later tonight. Lows in the 40s and low 50s behind the front in the north, to 50s and low 60s in the south.
Friday:  Rain showers continue to slide south, with most locations seeing some light rain by the afternoon. Chance of precipitation is 80%. New precipitation amounts between a quarter and half of an inch possible. Rain ends from north to south during the late afternoon. Highs in the 50s to low 60s in north to mid 60s to 70s in the south.
High School Football Friday Night: Showers likely. Cloudy, with a low around 54. North wind around 10 mph. Chance of precipitation is 70%.
Saturday (Veterans Day): Showers likely. Cloudy, with a high near 60. Northeast wind around 10 mph. Chance of precipitation is 70%.
Crimson Tide Football at Lexington KY: Sunny, with a high near 54. Northeast wind between 5 and 7 mph.
Saturday Night: Showers. Low around 55. Chance of precipitation is 80%.
Remainder of the Weekend and First of Next Week: The 60% chance of rain Sunday will end by mid-day with partly cloudy conditions returning Sunday afternoon and evening. The new work week will begin partly sunny with chances for rain returning Tuesday. Highs in the upper 60s, lows in the upper 40s.
---
---
Topping the News:
The new Drought Monitor shows Northern Pickens and Tuscaloosa Counties along with all of Lamar, Fayette and Walker Counties are now in Extreme Drought. The reminder of the region except for Northern Marengo County is in Severe Drought. Up to an inch of rain today thru the weekend will help reduce the wildfire threat hopefully keep the drought from worsening.
As a result of the drought, 22 wildfires are currently burning across West Alabama. According to the Alabama Forestry Commission Wildfire Map, 138 fire are statewide. Most are contained.
---
A day after that wildfire in the Griffin Ridge Community near Brookwood burned more than 120 acres and destroyed two homes, multiple departments responded to a wildfire along U.S. 69 South, north of Moundville Wednesday. No structures were threatened.
---
Rose Cresswell and her husband Keith Davis are struggling to recover from that fire on Milldale Road in the Griffin Ridge Community near Brookwood. Cresswell told news partner ABC 3340 she has lived on that property her entire life, but she has faith the God will provide. Red Cross is assisting, and a GoFundMe Account has been setup to assist with recovery expenses.
---
Fire officials hope the rain along with Gov. Ivey's statewide "No Burn Order" will reduce the wildfire threat over the coming days.
"This declaration is meant to prevent unnecessary burning, reducing the chance of avoidable fires. I urge Alabamians to heed this warning," said Ivey.
This prohibition has been put in place in all 67 counties in Alabama. Specifically, the regulation prohibits any prescribed burns, any campfire or bonfire, any trash or debris fires, or any other open burning.
Under Section 9-13-142, Code of Alabama, anyone found guilty of violating these regulations and improperly doing open burning in a Drought Emergency declared area shall be guilty of a misdemeanor and shall be fined not less than $250 nor more than $500 and, at the discretion of the court, that person may also be sentenced to the county jail for up to six months. Additionally, any person burning in violation of the Drought Emergency Declaration, will be liable for damages to the property of another and any costs associated with the suppression of said fire. Suppression costs would include equipment and personnel costs related to control or extinguish the wildfire."
---
Another different type of fire happened in the Vance area yesterday when a large machine at the Scott-Hyponex plant on Mount Moriah Rd. burned. Several fire agencies responded to the fire, which did considerable damage to the machine. No injuries were reported.
---
The Alabama Community College System Board of Trustees has approved the selection of Jonathan Koh as the new president for Shelton State Community College. He has served in multiple roles at the college since 2015. He replaces Chris Cox who moved up to the state community college system.
---
Charges have been filed against a boat's co-captain allegedly involved in the viral brawl at Montgomery's river front.
Damien Pickett is charged with assault third-degree. Five others were also charged in the incident that had racial undertones.
The charge is in relation to a riverfront brawl back in August 2023, which apparently started from a dispute over a boat's docking space.
---
---
In Sports:
Former Florida and Ohio State Head Football Coach and now Fox Sports commentator Urban Myer is raising some eyebrows in the college football community. He is calling Bama signal caller Jalen Milroe not only the best QB in college football but the best player. He is currently listed 10th on the Heisman prospect list.
---
Yet another Alabama football player is on a prestigious watch list.
Alabama's Will Reichard was named a semifinalist for the Lou Groza Collegiate Placekicker Award, the Palm Beach County Sports Commission announced on Thursday morning.
Reichard is one of 20 semifinalists for the Groza which is presented annually to college football's top placekicker. A group of finalists will be named on Nov. 28 and honored at the 32nd annual Lou Groza Collegiate Placekicker Awards Banquet on Dec. 4. The 2023 winner of the Groza will be announced on Dec. 8 as part of the Home Depot College Football Awards on ESPN.
Alabama has never had a Groza Award winner in program history.
---
Under normal circumstances this would be strange to say but enjoy the rain!