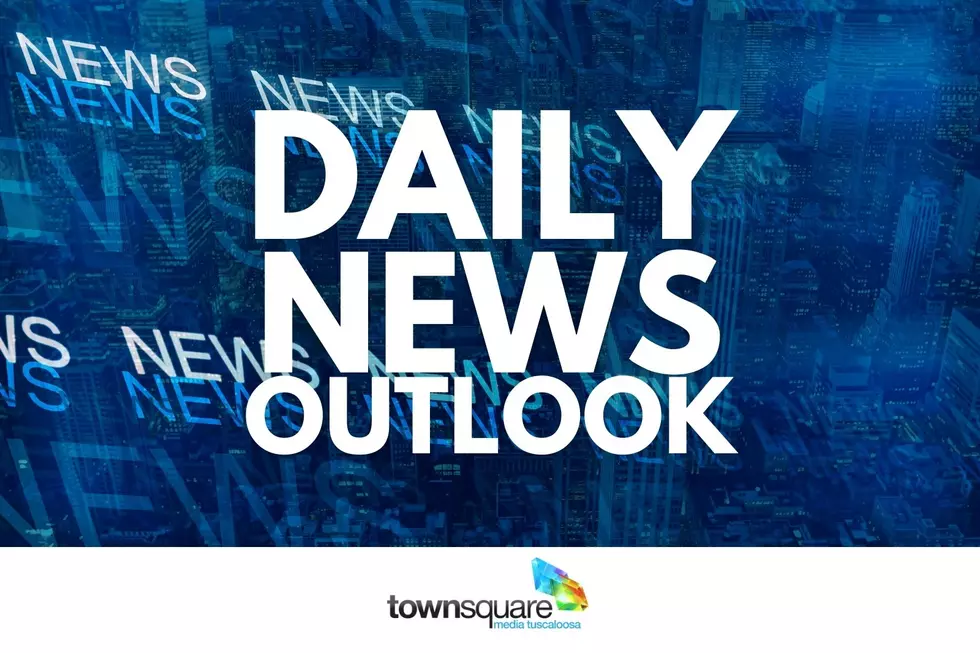 West Alabama Monday Briefing
Canva
Its Monday, September 25, 2023, the last week of September. As we told you last week, West Alabama is listed by the National Drought Monitor as be abnormally dry. This along with extreme drought conditions in the southwestern section of the state has prompted the Alabama Forestry Commission to issue a statewide fire alert, effective immediately.
A Fire Alert means permits for outdoor burning will be restricted. Anyone who burns a field, grassland, or woodland without a burn permit could face a Class B misdemeanor. The alert will remain in effect until conditions improve and the commission rescinds the order.
There are currently 11 active wildfires across the state. Two of them are here in West Alabama; 35 acres are burning in northeast Marengo County and 35 acres in extreme northern Bibb County. Both are considered under control.
Increasing clouds with showers in the morning and a few thunderstorms by the afternoon along with small rain chances through Thursday could help reduce the dry conditions a bit.
The Forecast:
Today: A chance of showers and thunderstorms, then showers likely and possibly a thunderstorm after 1pm. Mostly cloudy, with a high near 83. Calm wind becoming southeast around 5 mph in the afternoon. Chance of precipitation is 60%. New rainfall amounts between a quarter and half of an inch possible.
Tonight: A chance of showers and thunderstorms before 10pm, then a slight chance of showers. Mostly cloudy, with a low around 67. East wind around 5 mph becoming west after midnight. Chance of precipitation is 40%.
Tuesday: A slight chance of showers, then a chance of showers and thunderstorms after 1pm. Partly sunny, with a high near 85. Calm wind becoming north around 5 mph. Chance of precipitation is 30%.
Tuesday Night: A 20 percent chance of showers and thunderstorms before 1am. Partly cloudy, with a low around 67. Calm wind.
Remainder of the Week: 20% to 30% rain chances for Wednesday and Thursday with dry conditions returning through the remainder of the week. Highs will be in the mid 60s and lows in the mid 60s.
---
---
Topping the News: (Updated)
There was a fatal shooting in the 3900 Block of Northwood Lake Drive West in Northport just after 7 last night. That is the main entrance off 69 North. 24-year-old Demetrius Damon Windham, Jr. died from his wounds. The multi-agency Tuscaloosa Violent Crimes Unit continues to investigate but no arrests have been made.
VCU Captain Jack Kennedy told reporters this morning that police believe Windham was a resident at the home where he was fatally shot, but added that evidence, surveillance video and witness accounts suggest Windham was not a random target and police do not expect further violence in the area.
The VCU is asking anyone with information about a suspicious vehicle seen between the 69 North entrance and the lake spillway last night to contact them at 205-464-8690.
---
A tragic one car crash Saturday night killed 17- and 18-year-old Tuscaloosa City Schools students. Elijah Clark and Mariyae Gulley died on 69 South when their vehicle left the road and struck a ditch. They were not weathering a seat belt.
Paul Bryant High Principal Eric F. Hines issued a statement on Facebook, "Elijah and Mariyae were not just students; they were bright, spirited individuals who brought joy and positivity to our school every day. Their absence will be profoundly felt by their classmates, teachers, and all who had the privilege of knowing them.
"We extend our deepest condolences to their families. Our thoughts and prayers are with you during this unimaginably difficult time, and we are here to offer our support in any way we can."
Counseling will be available to students and faculty.
ALEA Trooper Sgt. Jeremy Burkett says 55% of Alabamians who die in traffic crashes were not wearing a seat belt.
---
Tuscaloosa/Northport residents who drive to Livingston for a steak at Diamond Jim's and Mrs. Donna's Steakhouse may be able to save time and gas money soon. Northport City Council President Jeff Hogg has revealed negotiations are underway to bring the restaurant to a site on 43 North across from the new Los Tarasco's Restaurant.
---
Alabama Attorney General Steve Marshall wants the Alabama Legislature to create a stronger deterrent to the operation of illegal gambling halls and bingo parlors by making a violation a felony instead of the current misdemeanor. Marshall told APT Capitol Journal that local officials for refusing to enforce current gambling laws because of the revenue they produce.  Marshall has battled Greene County over gambling in that county since he took office.
---
---
In Sports:
Former Crimson Tide defensive start Will Anderson, Jr. helped Houston get their first win under another former Bama star, DeMeco Ryans tenure at the Texan's head coach. Anderson blocked a Jacksonville Jaguars field goal early in the second quarter of the game, giving the Texans the momentum, they needed and helping propel them to a 37-17 victory.
---
After Saturday's win over Ole Miss, The Crimson Tide is ranked 12th in the AP Poll and 11th in the USA Today Coaches' Poll.  Georgia remains #1, although they have not played a creditable opponent yet, LSU is 13, Old Miss 20, Tennessee 21, Florida 22 and Missouri 23rd in this week's AP Poll.
---
Have a great week, the first week of fall!