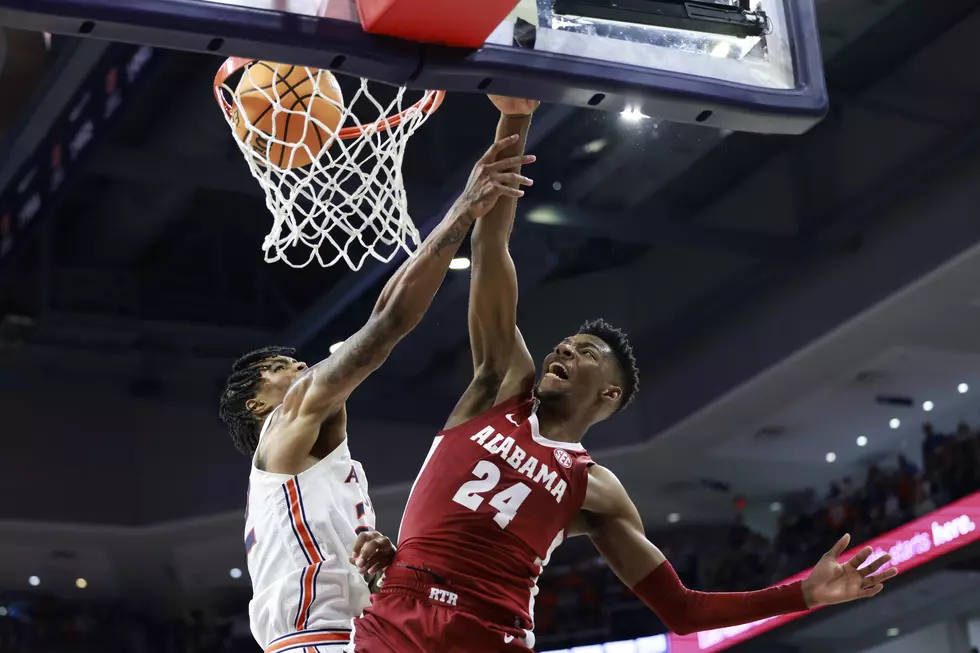 Alabama Stays Undefeated in SEC Play After Battle on The Plains
Crimson Tide Photos / UA Athletics
The Alabama Crimson Tide (22-3, 12-0) keeps it successful season going after traveling to Auburn and defeating the Tigers 77-69. Tide freshman Rylan Griffen proved to be the difference maker on Saturday as he led Alabama with 16 points off the bench. His block and subsequent 3-point make with five minutes remaining in the game stretched Alabama's lead out to four and helped ensure the Tide's victory.
"That's a big win. They played hard, they were ready to go. Pearl had them ready to go. I thought their game plan was great early. They did a great job on Brandon. You know, but I thought we had some of our younger guys step up. Jaden Bradley played well tonight. Rylan Griffen was huge. Hit some big shots and free throws when we needed them," said Alabama head coach Nate Oats.
The Tide was able to lean on several of its players as freshman Brandon Miller largely struggled to shoot the ball. Miller finished with 13 points but was 0-of-7 from the 3-point line.
Mark Sears got his shooting back on track after a couple off games. He was 2-of-3 from behind the arc and ended with 15 points and six rebounds for the game.
The Tide struggled from the free-throw line, only converting 13-of-23 from the charity stripe but was able to rely on its hard-nosed defense to take the lead in the second half and hang on in a raucous environment. Alabama held the Tigers to just eight points over the game's final 6 minutes to stay unbeaten in SEC play.
Nimari Burnett didn't make a huge impact on the scoresheet, only notching five points, but he set the tempo for the Tide by tallying the most Blue Collar points and winning the Hard Hat award for the game.
"I thought Nimari played well. Nimari didn't shoot it particularly well but he ended up leading us in Blue Collar points and he made some effort plays," said Oats.
The Tide hits the road for its biggest league game of the season on Wednesday. Alabama plays Tennessee in Knoxville at 6 p.m. Alabama has six more games left in its regular season and will welcome the Tigers for a home game in Coleman Coliseum on Wednesday, March 1.
Alabama Softball's Season Opener
Alabama softball's 2023 season opening weekend.
Alabama vs Florida - Feb 8, 2023
The Alabama Crimson Tide hosted the Florida Gators Feb 8, 2023 and came out on top 97-69.