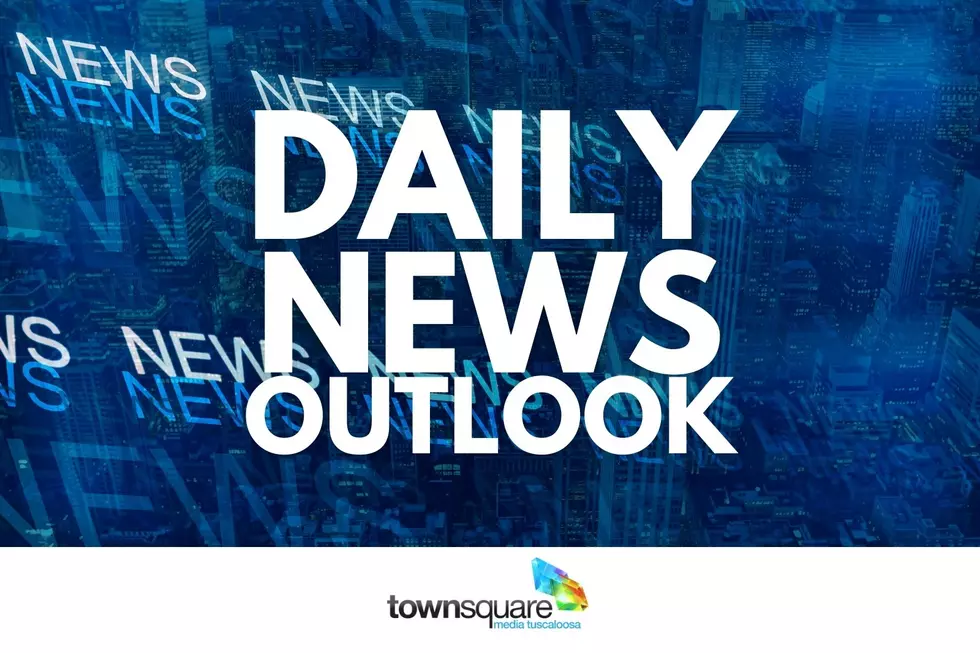 WEST ALABAMA WEDNESDAY BRIEFING
Canva
Good morning! Anyone having troubling remembering what day it is on this short work week? It's Wednesday but not really "Hump Day" this week.
Expect partly cloudy with scattered showers and storms possible in the afternoon. Highs will be in the 80s. Tonight, there may be a lingering shower and a few storms early. Lows in the 60s.
------
In the news:
There is not enough time left in this session of the Alabama Legislature to get to a vote on Cottondale Republican State Senator Gerald Allen's bill to consolidate Tuscaloosa, Northport and Tuscaloosa County into one metro government.  Its introduction caught everyone by surprise and has been met with skepticism and concern from some in the public and local political leaders. Allen says he introduced the bill so late in the session to get people thinking about it. He plans to reintroduce it during next year's regular session.
------
An unknown settlement amount has been reached in a 2018 wrongful death lawsuit surrounding the death of Walker County Jail inmate Autumn Harris. The suit names Preemptive Forensic Health Solutions and company owner Roger J. Childers, who is a registered nurse. The company was providing medical care for the jail at the time of Harris' death. The lawsuit alleged Harris was not given medical treatment for an upper respiratory infection that led to her death. She was in jail on a failure to appear on a misdemeanor theft charge involving $40.
------
"Freedom Ain't Free", the 59th commemoration of the "Bloody Tuesday" attack by Tuscaloosa Police and members of the KKK on marchers demanding an end to segregation at the new Tuscaloosa County Courthouse in 1964 is set for this coming Sunday (June 4th), at The First African Baptist Church located at 2621 Stillman Boulevard in Tuscaloosa starting at 3:00 p.m.
------
The 2023 begins tomorrow but already the National Hurricane Center is tracking a system in the Gulf of Mexico. It currently has a low chance for development over the coming days but is expected to move across Florida and into the Atlantic by early next week. The system could bring rain to South Alabama.
The NHC is also tracking five tropical waves currently crossing the Central Atlantic Ocean.
------
June 25-30 is Restaurant Week in Tuscaloosa/Northport as we are encouraged to celebrate and support our local restaurants.  In a release from "VisitTuscaloosa" the event will highlight the area's culinary diversity by providing a platform to showcase the local food community.
------
Gov. Ivey has signed into law a bill limiting transgender students in Alabama to playing sports in public colleges and universities only with their biological sex. Ivey's office said the legislation is meant to keep transgender women from having an unfair advantage in competition. Opponents claim the legislation is extremist and shames transgender people and is discriminatory.
------
TPD responded just after 5 p.m. yesterday after a caller reported someone was firing shots from a vehicle on Greensboro Avenue. They discovered a male victim in the 3800 block of Greensboro Avenue with injuries that were not life-threatening. Another similar incident took place on Greensboro Ave. last Thursday.
------
In sports:
Alabama Men's Basketball Guard Mark Sears is returning for the 2023-24 basketball season after withdrawing from the NBA draft. Tide Coach Nate Oats is also hopeful that Guard Jahvon Quinerly will also return.
Alabama pitcher Montana Fouts was among those named Tuesday as a D1Softball All-American.
Former Alabama and New York Jets star QB Joe Nameth turns 80 today. Happy Birthday Joe Willie!
The Alabama High School Athletics Association is concerned about a continued shortage of prep sports officials. The shortage began at the height of the pandemic and is also blamed on abusive treatment of officials by fans and parents. If you are interested, you can go the association's website to learn more.
Have a great Wednesday!!