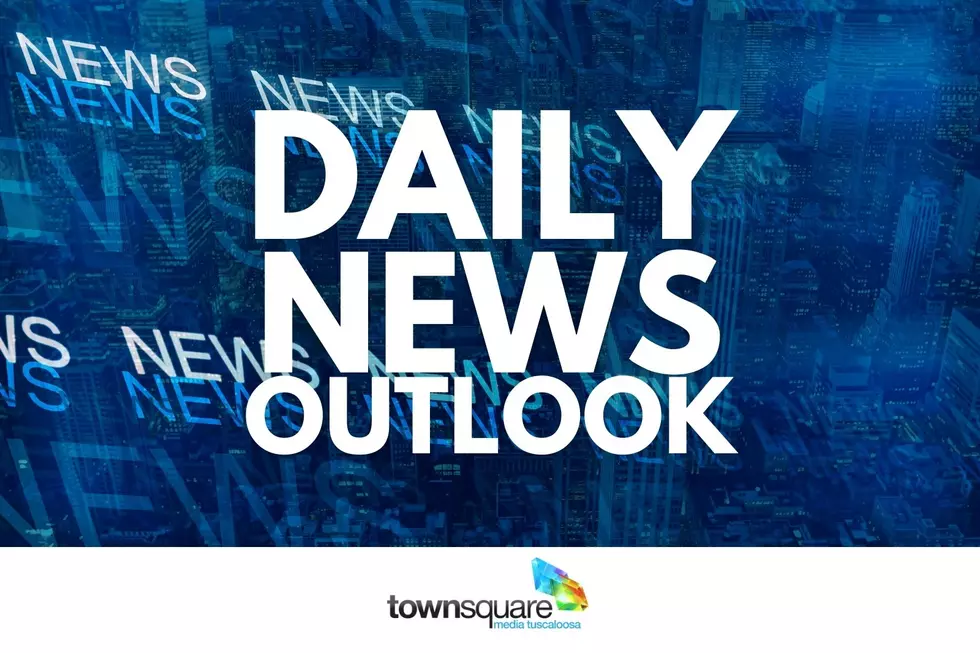 West Alabama Wednesday Briefing
Canva
It is Wednesday November 15, 2023. "Rain, rain, don't go away", at least for a while. Some 3/10s to 4/10s of an inch of rain has fallen across West Alabama with more to come. We desperately need it.
The moisture is helping to extinguish the wildfires across the state and stop the further spread of serious drought conditions.
Rain is in the forecast through Friday night and then after a dry weekend return the first of next week.
The Forecast:
Today: Rain, mainly before noon. High near 60. Northeast wind around 10 mph, with gusts as high as 20 mph. Chance of precipitation is 80%. New precipitation amounts of less than a tenth of an inch possible.
Tonight: A 50 percent chance of rain. Mostly cloudy, with a low around 55. Northeast wind around 10 mph, with gusts as high as 20 mph. Any new precipitation amounts will be less than a tenth of an inch.
Thursday: A 30 percent chance of rain, mainly before noon. Partly sunny, with a high near 68. East wind 5 to 10 mph.
Thursday Night: A 20 percent chance of showers after midnight. Mostly cloudy, with a low around 55. East wind around 5 mph.
Friday: A 30 percent chance of showers, mainly after noon. Mostly cloudy, with a high near 70. East wind around 5 mph becoming northwest in the afternoon.
High School Football Friday Night: A 20 percent chance of showers before midnight. Mostly cloudy, with a low around 54.
Crimson Tide Football Saturday: Sunny, with a high near 66.
Saturday Night: Mostly clear, with a low around 38
---
---
Topping the News:
Palace Bingo in the unincorporated Greene County community of Knoxville, just off I20/59 West, was ordered closed this morning until further notice.  Sheriff Joe Benison has filed litigation against the bingo hall claiming they are violating operation rules as set by the state and county.
Some critics claim the sheriff is attempting to help competing bingo halls that support him. Benison denies those claims and says he is in talks with Palace Bingo owners to get them to operate within the rules and reopen.
---
The West Alabama counties of Lamar, Fayette, Walker and Tuscaloosa Counties are among 20 in the state declared for drought assistance by the Small Business Administration.  Working capital loans are available to help small businesses, small agricultural co-ops, businesses engaged in aquaculture and most non-profit organizations impacted directly by the drought. Applicants can apply online at SBA.gov/disaster. The deadline to file for assistance is July 8th next year.
---
Concern for school safety has led the Tuscaloosa City School System to conduct random weapons detection using metal detectors, x-ray machines, and bag scanners. System Safety Officer A-B Green tells news partner ABC3340 so far this school year there have been no major issues. School officials say the process is for everyone's protection.
---
A public hearing is set for November 27th for Northport residents on the proposed Comprehensive Plan for the city. There have been six community input meetings to discuss issues of concern that residents believe the plan should address. Among the concerns were traffic, schools, business development and public safety.
KPS consulting will present the plan at city hall at 6pm on the 27th.
---
Alabama U.S. Senator Tommy Tuberville has drawn the wrath of Minnesota Democrat Senator Amy Klobuchar for his hold on military promotions over the Pentagon's abortion policy.
Klobuchar told a Senate Armed Services Committee meeting that Tuberville is putting national security at risk and will not listen to any sound advice, even from current and former military leaders or members of his own party.
Democrat and Republicans are seeking a way to bypass Tuberville's promotion blockage.
---
The Tuscaloosa County Park and Recreation Authority will have a new marketing manager promoting their news and facilities as their longtime spokeswoman Becky Booker retires after 15 years. She is passing the reins to Heather Shipley, a former full-time instructor of communications at The University of Alabama in the Culverhouse School of Business where she taught upper-level students personal branding and professional communications.
---
---
In Sports:
Alabama Men's Basketball Coach Nate Oats has been preaching defense to his offensive minded team, apparently it worked. The young Alabama Crimson Tide defeated the South Alabama Jaguars 102-46 last night at Coleman.
The victory runs the Tide's pre-conference season record to 3-0 and is the third straight game where the team broke the 100-point mark in scoring.
---
Several area high school football teams will be active in this week's AHSAA playoff 2nd round. Among the teams are undefeated Hillcrest will host Helena in a Thursday night game tomorrow night. In 5A, Demopolis is home to B.C. Rain 4A play finds Bibb County traveling to Jacksonville. In 3A Gordo visits Geraldine while Winfield gets a visit from Sylvania. 2A play find TA traveling to Southeastern and Sulligent home to Locust Fork. In 1A, Sweet water hits the road to Maplesville, Pickens County is at Winterboro and South Lamar hosts Wadley.
---
From UA Athletics: Alabama cross country earned a pair of Southeastern Conference yearly awards, the league office announced Tuesday. In addition to the conference awards, the USTFCCCA announced its All-Region list where the Crimson Tide put up six student-athletes.
Victor Kiprop was voted the SEC Cross Country Runner of the Year for the second season in a row, while freshman phenom Doris Lemngole earned SEC Freshman of the Year accolades. It's now the third straight year that the Crimson Tide has been awarded men's Runner of the Year, and the second consecutive season that Alabama has produced a women's Freshman of the Year honoree.
---
Have a wonderful Wednesday and stay dry!