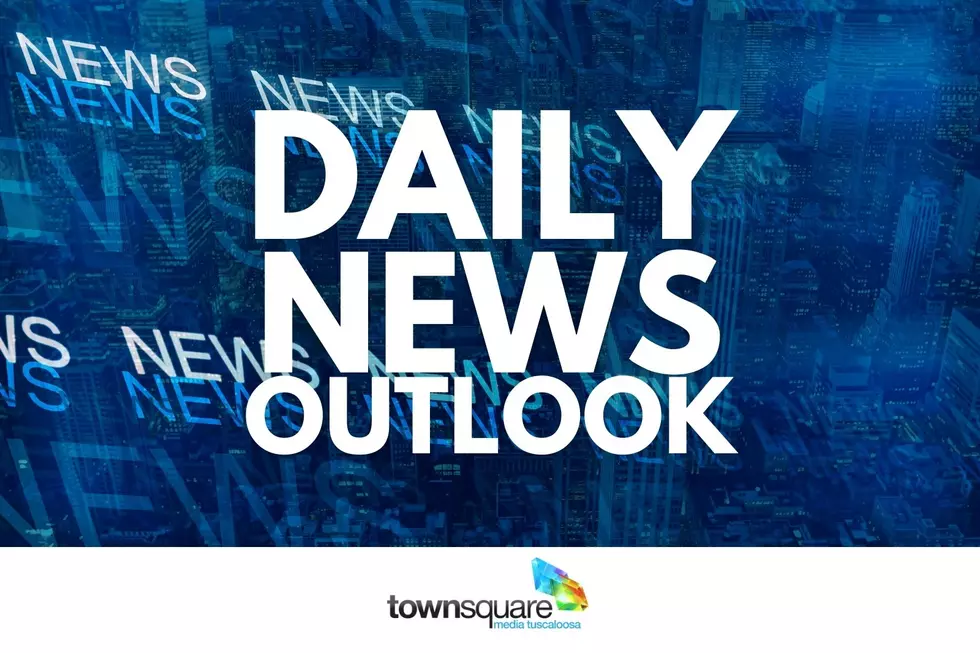 West Alabama Tuesday Briefing
Canva
It is Tuesday November 21, 2023. We got the desperately needed rainfall overnight and we got it without the forecasted severe weather. The National Weather Service in Birmingham says rain ahead of the storm system stabilized the air over West Alabama, preventing the severe weather in Mississippi from moving into our area.
However, there is still a chance for strong to severe storms in South Alabama through 4:00 this afternoon. That includes a possible tornado.
The rain in West Alabama will end temporarily with a cold front moving through the state. However, additional light rain will develop in the area by the early afternoon and spread east through sunset.
Temperatures will be noticeably cooler as we move toward Thanksgiving Day. Highs will not get out of the 50s for the rest of the work week.
There will be another shot at badly needed rain Thursday night and again next week.
The Forecast:
Today: Cloudy, with a high near 68. Northwest wind around 10 mph. Chance of precipitation is 60%. New precipitation amounts of less than a tenth of an inch possible this afternoon.
Tonight: A 20 percent chance of showers after midnight. Cloudy, with a low around 46. Northwest wind around 10 mph.
Wednesday: Mostly cloudy, with a high near 55. Northwest wind around 10 mph.
Wednesday Night: Partly cloudy, with a low around 37. North wind 5 to 10 mph.
Thanksgiving Day: Partly sunny, with a high near 58. North wind around 5 mph becoming calm.
Thursday Night: A 30 percent chance of showers after midnight. Mostly cloudy, with a low around 44.
Friday: Partly sunny, with a high near 58
High School Football Friday Night: Partly cloudy, with a low around 40.
Iron Bowl Saturday at Auburn: Mostly sunny, with a high near 61.
Saturday Night: Partly cloudy, with a low around 44.
Sunday through Tuesday: Partly sunny with a high of 60 Sunday. Small rain chances return Sunday night through Monday.
---
---
Topping the News:
Monday evening rain helped stabilize the atmosphere and the expected strong to severe thunderstorms became mainly a beneficial rainmaker over West Alabama overnight. The National Weather Service in Birmingham reports the 1 to 2 inches of rainfall will probably not end the drought but should curtail its continued spread. Alabama Forestry will determine later today if they can remove more counties from the No Burn Order across North Alabama counties.
---
32-year-old Brian Christian Carroll has been found dead according to the Tuscaloosa Violent Crimes Unit. The man's family had been reported him missing last Friday.
Family members sought help from the Tuscaloosa County Sheriff's Office and made a number of social media posts asking for help in finding him.
His last known location was on Brown Road near Samatha when his cellphone pinged a cell tower but a search for him turned up nothing over the weekend. His body was found Monday in a wooded area.
Foul play is not suspected at this time according to the commander of TVCU Captain Jack Kennedy
---
West Alabama Democrat Congresswoman Terri Sewell has presented Hale County a more than half million dollars check to construct new storm shelters in Akron, Greensboro, Moundville and Sawyerville. Sewell says the number of tornado touchdowns the last two years make emergency preparedness critical. She says the check is a result of cooperation between all levels of government. Sewell is seeking funding for more shelters for Hale and other West Alabama counties.
---
Student veterans from the University of Alabama and Auburn University joined Governor Ivey at the Capital to kickoff Operation Iron Ruck. It is a three-day, 151-mile journey from Tuscaloosa to Auburn to raise awareness and money for veteran suicide prevention. In 2021, 143 veterans lost their lives to suicide. That was 18% of all of the suicides in the state that year.
---
COVID19 hospitalizations in Alabama and Mississippi have increased more than 10 percent since the first of the month according to figures released by the Centers for Disease Control.  13 states, including Tennessee have seen a 20% admission hike. Health officials say it is not unexpected.
---
50-year-old Anthony Thomas suffered serious injuries when he was struck by a hit-and-run driver over the weekend. ALEA Troopers report Thomas was walking along U.S. 11 in Fosters around 8:45pm Sunday when he was struck. Troopers are still investigating.
---
---
In Sports:
The Philadelphia Eagles got great games from former Alabama stars Jalen Hurts, Devonta Smith and Josh Jobe in the Eagles 21-17 win over the Kansas City Chiefs in a driving rainstorm in Kansas City last night. The game was a rematch of last year's Super Bowl won by KC.
---
Alabama remains a double-digit 14.5-point favorite to win Saturday's Iron Bowl football game at Auburn. The over/under in the match has been set at 49-points.
Kickoff is 2:30 on the Crimson Tide Sports Network with Voice of the Tide Eli Gold bringing play-by-play. You can catch the game on Tide 100.9 and 95.3 The Bear.
---
Have a terrific Tuesday as we countdown to Thanksgiving.