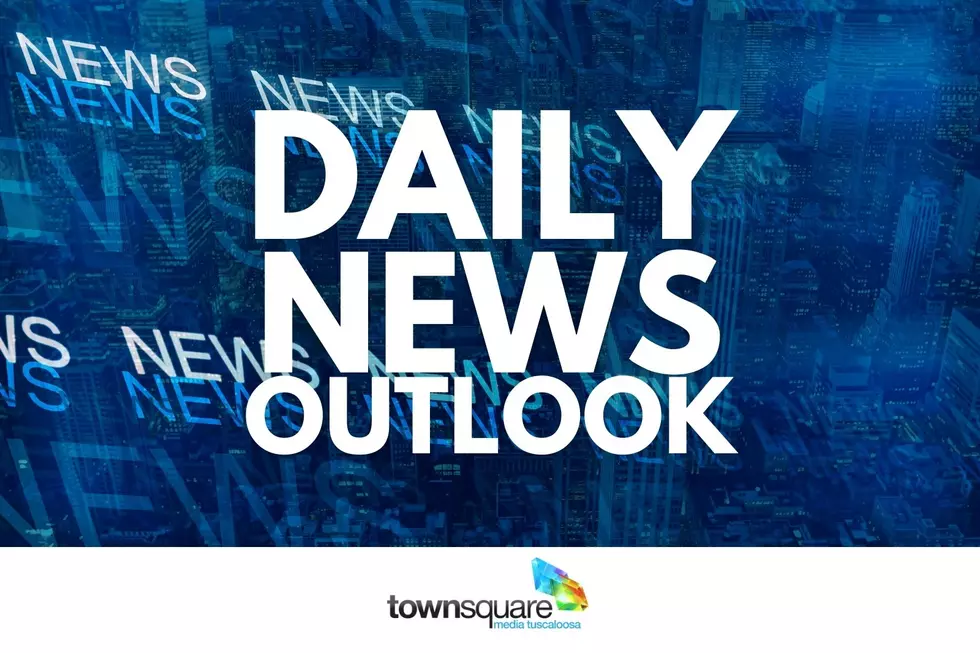 West Alabama Thursday Briefing
Canva
It is Thursday, November 16, 2023, one week until "Turkey Day".  While it is still a little too early for the holiday forecast, computer models are indicating the potential for sunny skies with daytime highs in the mid 50 and overnight lows in the low to mid 40s.
But before we get to the holiday, we may have to get through some severe weather. While the greatest chance for strong to severe thunderstorms will be in South Alabama, a stray storm or two in West Alabama cannot be totally ruled out for Monday and Tuesday.
This is, after all, the secondary tornado season. and a tornado or two could be possible in an area roughly south of the I20/59 corridor. The primary threat will be damaging winds up to 60 mph and hail up to quarter-size for Monday night into Tuesday morning.
The Forecast:
Today: A chance of showers before 9am, then a slight chance of rain between 9am and 3pm. Partly sunny, with a high near 72. Northeast wind 5 to 10 mph becoming southeast in the afternoon. Winds could gust as high as 20 mph. Chance of precipitation is 30%.
Tonight: Patchy fog after 3am. Otherwise, increasing clouds, with a low around 56. East wind around 5 mph.
Friday: A 20 percent chance of rain after noon. Patchy fog before 8am. Otherwise, cloudy, with a high near 70. East wind around 5 mph becoming west in the afternoon.
High School Football Friday Night: A 20 percent chance of showers before midnight. Mostly cloudy, with a low around 55. Northwest wind around 5 mph.
Crimson Tide Football Saturday: Partly sunny, then gradually becoming sunny, with a high near 68. North wind 5 to 10 mph.
Saturday Night: Clear, with a low around 39.
Sunday: Mostly sunny, with a high near 67.
Sunday Night: A 30 percent chance of showers after midnight. Mostly cloudy, with a low around 49.
Beginning the New Work Week: Showers and possibly a thunderstorm. Highs near 65. Lows in mid 50s. Chance of precipitation is 80%.
---
Topping the News:
Single family building permits were down slightly in Tuscaloosa from this time last year. That combines with a 12.9% decrease in residential sales over the last year according to figures released by UA's Alabama Center for Real Estate.
---
On a 9-7 vote the U-S Senate Rules Committee has voted to advance a resolution to override Alabama Senator Tommy Tuberville's month's long block on military leadership promotions due to Pentagon abortion policy. During the debate, Republican South Carolina Senator Lindsey Graham chided Tuberville for punishing the wrong people. He pointed out that policy is made by civilians not military personnel.
Senators from both parties have grown agitated over Tuberville's political tactic, which they say threatens military readiness.
---
Hale County is adding six additional community storm shelters. In a county that has seen numerous tornadoes in recent years; the additional half-million-dollar shelters are welcomed. The shelters are funded by a matching federal grant and will be placed in several communities in the county, including Moundville.
---
The Tuscaloosa National Airport Development Committee has made a request for federal congressionally directed grants to replace the terminal and possibly the control tower. The committee requested $6.5 million through the Infrastructure Investment and Jobs Act for the terminal grant program toward an overall project cost of $18.75 million.
---
Alabama Republican U-S Senator Katie Britt has just returned home from a Congressional trip to Israel where she met family members of civilians taken hostage by Hamas during their deadly attack on Israel on October 7th. Britt told reporters at a press conference in Montgomery that the Israeli government also showed them video of the violent attack on men, women and children. She says Hamas are not brave soldiers but rather cowardly terrorists. Britt sits on the Senate Appropriations Committee which allocated financial aid to Israel.
---
Two employees of Tuscaloosa's Parker Towing Company have been recognized for saving the lives of a family in the waters just off Pinto Island in Mobile Bay. The American Waterways Operators presented Excellence in Rescue Operations honors to pilot Nick Vedugo and deckhand Darius Thomas for saving two adults and two children when their small boat capsized this past summer.
---
The Tuscaloosa VA Medical Center is hosting one of its quarterly Veterans Town Hall meetings from 11am until 1pm today.  The event will be held in the Building 137 Sports Atrium. Veterans can get assistance in filing claims and enrolling. Those that cannot attend can watch the event on the Tuscaloosa VA Facebook Live feed.
---
---
In Sports:
The Alabama High School Athletic Association football championship games will be at Bryant-Denny December 6-thru-8th and the event still needs some local volunteers. You can go to the Visit Tuscaloosa website to sign-up.
---
From UA Athletics: A meet and school record performance in the 500-yard freestyle by Charlie Hawke highlighted the No. 19/20 Alabama Swimming Diving team on the opening night of competition at the Tennessee Invite.
Hawke's record-setting swim was one of 17 performances that placed in the A final of an event. Additionally, Cadence Vincent secured an Olympic Trial mark in the 50-meter freestyle during the morning's preliminary session, clocking a time of 25.34.
Alabama would finish the day ranked third on both sides of the team standings as the women held 202 points and the men garnered 227.
---
From UA Athletics: Alabama women's basketball (3-0) will host the last of its four-game homestand to begin the year when the Crimson Tide welcomes South Florida tonight. Tipoff set for 6 p.m. CT inside Coleman Coliseum.
---
Have a terrific Thursday!!