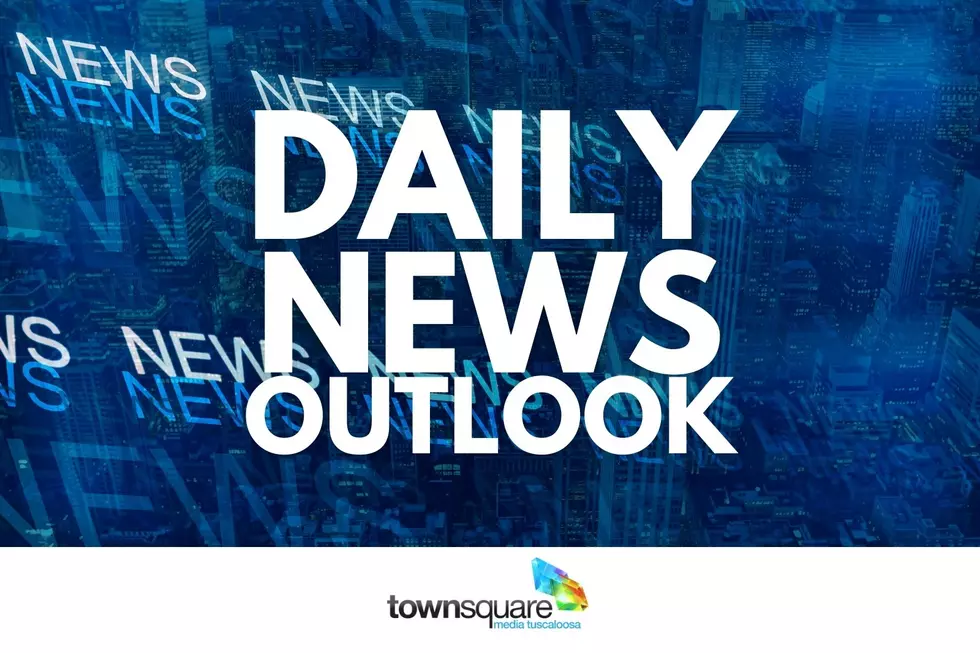 West Alabama Monday Briefing
Canva
It is Monday, November 20, 2023, the beginning of what most travel experts believe will be one of the busiest holiday travel seasons ever. AAA projects an estimated 49.1 million Americans will be driving to their Thanksgiving destinations this year- an increase of 1.7% from 2022. TSA is expecting to screen more than 30 million travelers over a 12-day period that began Friday. AAA also says the number of people traveling by bus or train or taking a cruise is up 11% this year compared to last year.
The worst time to travel over the holiday will be 2 to 6 p.m. Wednesday according to travel experts. The worst return day is this coming Sunday when most of those who traveled on the five days before Thanksgiving all try to go home at the same time.
Travelers will not only contend with congested highways and airports but also the weather. Thunderstorms, heavy rain and high winds will extend from the Lower Mississippi Valley to the Northeast. Those winds could create havoc with the Macy's parade balloons.
A cold front is producing strong winds, high-elevation snows, coastal and valley rains, and a surge of cold air across much of the western U.S. while the middle section of the country will have mostly decent weather.
The beginning Thanksgiving week in Alabama will be a bit rocky with a Slight (2 in 5) Risk for strong to severe thunderstorms southwest of a line from Sulligent in Lamar County to Tuscaloosa to Centreville in Bibb County. The main threat will be damaging winds to 60mph. However, a brief tornado cannot be ruled out.
A Marginal (1 in 5) Risk for strong to severe thunderstorms with winds to 60mph and a potential tornado exists east and southeast of that line.
A Wind Advisory will be in effect between 7:00 tonight and 7:00 tomorrow morning. Strong southerly winds 15 to 20 miles per hour will give way to gusts upwards of 40mph during the advisory period.
The Forecast:
Today: A slight chance of showers, then a chance of showers and thunderstorms after 3pm. Increasing clouds, with a high near 68. Southeast wind 10 to 15 mph. Chance of precipitation is 40%.
Tonight: Showers and thunderstorms. Some of the storms could produce heavy rainfall. Low around 63. Breezy, with a southeast wind 15 to 20 mph decreasing to 10 to 15 mph after midnight. Winds could gust as high as 40 mph. Chance of precipitation is 100%. New rainfall amounts between 1 and 2 inches possible.
Tuesday: Showers and thunderstorms likely before 9am, then a chance of showers. Cloudy, with a temperature rising to near 65 by 11am, then falling to around 59 during the remainder of the day. Southwest wind around 10 mph becoming northwest in the afternoon. Chance of precipitation is 70%. New precipitation amounts between a quarter and half of an inch possible.
Tuesday Night: A 20 percent chance of showers before midnight. Mostly cloudy, with a low around 46. Northwest wind 5 to 10 mph.
Wednesday: Partly sunny, with a high near 57. North wind around 5 mph.
Thanksgiving Eve: Mostly cloudy, with a low around 39.
Thanksgiving Thursday: A 20 percent chance of rain after noon. Mostly cloudy, with a high near 56.
Thanksgiving Night: A 40 percent chance of rain. Mostly cloudy, with a low around 44.
Friday: Mostly cloudy, with a high near 56.
High School Football Friday Night: Mostly cloudy, with a low around 42.
Iron Bowl Saturday at Auburn: Partly sunny, with a high near 59
Saturday Night: Mostly cloudy, with a low around 39.
---
---
Topping the News:
In a lawsuit, Former Alabama and NY Jets legend Joe Namath is being accused by 64yo Philip Lyle Smith with covering up Smith's sexual abuse 51 years ago at Namath's instructional football camp. Smith claims in a lawsuit published by the NY Post, that one of the camp coaches, Philip Foglietta, abused him and others at the camp and that Namath and others were enablers because they were aware and did nothing to stop it.
---
The rain last week was enough to end the "No Burn Order" south of Tuscaloosa and Pickens County South but from Bibb, Tuscaloosa and Pickens counties Northward the order remains in effect.
Wildfires continue to burn; some 39 wildfires continue to burn across north Alabama this morning with only 6 in South Alabama. Just one wildfire in north Fayette County is reported in West Alabama.
---
32-year-old Brian Carrol Christian has been reported as missing since last Thursday. His last known location was Brown Road in NW Tuscaloosa County. That is where his cellphone last pinged a cell tower. If anyone has information about the young man known as Corky, contact the Tuscaloosa County Sherriff's Office.
The missing man's mother Shirley Blocker Christian posted on social media that her heart is breaking and asking anyone who has seen Corky to call the sheriff's office or Joei Christian at 251-759-5749.
---
80yo Gerald Adams has been charged with the murder of his 79yo wife Donna. The Sunday afternoon incident on 28th Street in Northport appears to have been a situation where the husband wanted to end the prolonged suffering of his wife with an illness. The suspect remains in Tuscaloosa County Jail with no bond due to Aniah's Law.
---
Alabama Republican Senator Tommy Tuberville continues to draw ire from both parties for his hold on military leadership promotions and for comments he has made. Over the weekend he added to the fire by intimating that Democrat would allow abortions after birth. Sen. Majority Leader Mitch McConnell says Tuberville's actions are making things difficult. Democrats and Republicans claim Tuberville is using a false narrative.
---
---
In Sports: 
There will be a rematch of last year's Super Bowl tonight. The Philadelphia Eagles and former Bama QB Jalen Hurts take on Kansas City QB Patrick Mahomes and the Chiefs on Monday Night Football.
---
Hillcrest is one of a handful of area teams to make it to the third round of the high school football playoffs Friday night. The Pats will travel to Saraland in Class 6A. In 5A Demopolis will host Eufaula. In 2A TA is at Fyffe and in 1A Pickens County will entertain Wadley.