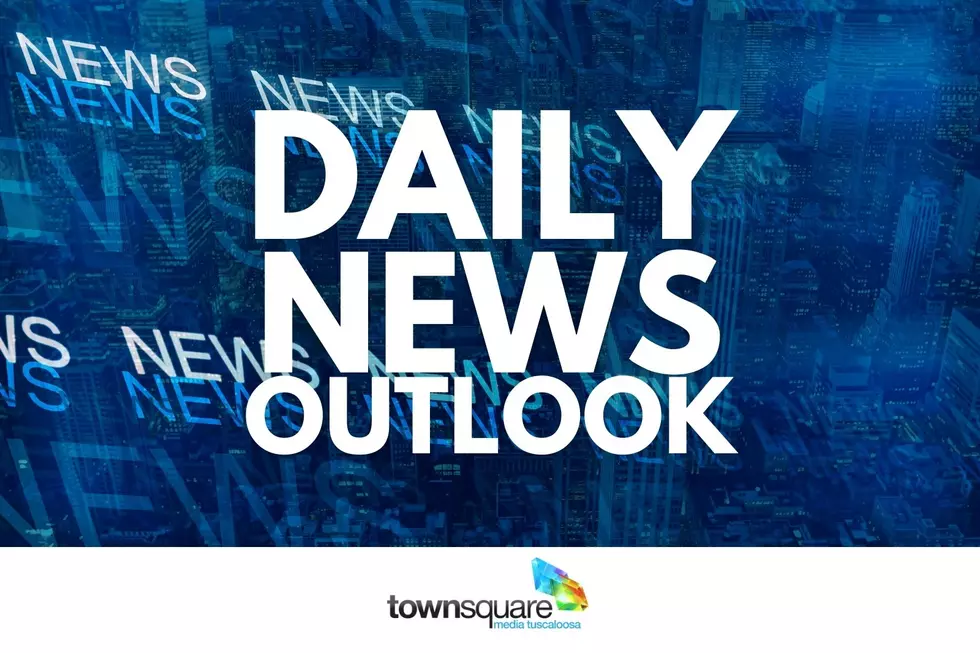 West Alabama Monday Briefing
Canva
It is Monday, November 13, 2023. The countdown to Thanksgiving is underway. The November 23rd holiday is the most family oriented of holidays and AAA is predicting this year will be the third 3rd busiest holiday travel season on record. 55.4 million are expected to travel over the long holiday weekend by plane, train, car, bus and cruise ship.
It may be the busiest for air travel in nearly two decades as travel continues to rebound after the pandemic. The most crowded days for flying over Thanksgiving are expected to be the Tuesday and Wednesday before the holiday, while Sunday and Monday after Thanksgiving are likely to be the worst coming back.
Motorists are expected to face the most traffic on Wednesday, particularly between the hours of 2:00 and 6:00 p.m. The best times to drive are before 11:00 a.m. on Wednesday, before 10:00 a.m. or after 5:00 p.m. on Thursday, before 11:00 a.m. or after 7:00 p.m. on Friday or in the mornings on Saturday and Sunday.
There could be a monkey wrench thrown into holiday travel plans if congress lets the government shutdown on November 18. That could create travel delays, especially at airports.
One of the contributors to driving over the river and through the woods to grandmother's house for the holidays is the prediction that gas prices, which have dropped in recent weeks, should remain stable over the holiday.
It's a little early to predict specific temperatures and conditions. but the Farmers Almanac has released its nationwide forecast for the holiday weekend, Thursday, Nov. 23 through Sunday, Nov. 26, 2023. In the southeast the forecast is for fair but cold conditions for the Thanksgiving holiday week.
As for this week, the weekend rain has thwarted worsening of the drought, but it has not been enough to end it. Forecasters believe that will come gradually over the next few weeks. More rain tomorrow through Thursday will help not only drought conditions but also will help to reduce the wildfires.
The Forecast: 
Today: A mixture of sun and high clouds. Highs in the mid 60s to low 70s.
Tonight: An increase in rain chances overnight south of a Carrollton to Tuscaloosa line. Even chances of rain north of the line. Lows will be in the upper 40s to lower 50s.
Tuesday: A 40 percent chance of showers, mainly after noon. Cloudy, with a high near 64. East wind 5 to 10 mph.
Tuesday Night: Rain likely, mainly after midnight. Cloudy, with a low around 52. East wind 5 to 10 mph. Chance of precipitation is 70%.
Wednesday: Rain likely. Cloudy, with a high near 59. East wind around 10 mph, with gusts as high as 25 mph. Chance of precipitation is 70%.
Wednesday Night: Rain likely, mainly before midnight. Mostly cloudy, with a low around 53. Chance of precipitation is 60%.
Remainder of the Week: Chances of rain Thursday - Friday with mostly cloudy skies Friday night for high school football playoff games.
---
---
Topping the News:
Wildfires continue to burn despite the weekend rain. Just over 100 are considered contained statewide with 16 burning here in West Alabama. Four each in Fayette and Walker counties. That fire in eastern Tuscaloosa County in the Griffin Ridge Community continues to smolder.
---
Marietta and Oak Grove churches from the Demopolis District have received permission to disaffiliate from the United Methodist Church. They are two of eight churches that were allowed to leave Sunday by the Alabama-West Florida Conference, including the near 5,000 member Christ Methodist in Mobile.
The weekend departures bring the list to 240 churches to depart in that conference. 330 churches in the North Alabama Conference, which includes Tuscaloosa, Pickens, Lamar, Fayette and Walker Counties, have already disaffiliated in a disagreement over same-sex marriage and ordaining openly gay clergy.
---
A multi-employer job fair conducted by the Jasper Career center is set for the Jasper Civic Center tomorrow. It will run between 9am and 1pm. Some 70 employers will be on hand. Participants are urged to bring a resume.
---
Besa Pinchotti, who runs the National Military Family Association, a group which represents military families says Alabama Senator Tommy Tuberville's hold on military promotions over the Pentagon's abortion policy is putting national security at risk.
Tuberville continues to claim his hold on high-ranking leadership promotions is not hurting military leadership however, more of his Republican colleagues are disagreeing with him.
Tuberville, the former Auburn football coach, never served in the U.S. military.
---
---
In Sports: 
Two Southeastern Conference Head Football Coaches are out the door. Jimbo Fisher at Texas A&M and Zack Arnette at Mississippi State have been fired.
MSU athletic director Zac Selmon announced this morning that Zach Arnett has been "relieved of his duties" as head football coach effective immediately. Analyst Greg Knox will serve as interim head coach for the remainder of the 2023 season. The Bulldogs are 4-6 this season.
Fisher's departure from A&M was announced Sunday. He will reportedly receive a record $77 million buyout after being relieved of head football coach duties. It would be the biggest buyout in college football history.
This season, the Aggies are 6-4 overall and 4-3 in the Southeastern Conference, with two games remaining in the 2023 season.
---
AP College Football Top 25:
1. Georgia: 10-0
2. Michigan: 10-0
3. Ohio St.: 10-0
4. Florida St.: 10-0
5. Washington: 10-0
6. Oregon: 9-1
7. Texas: 9-1
8. Alabama: 9-1
9. Louisville: 9-1
10. Oregon St.: 8-2
11. Missouri: 8-2
12. Penn St.: 8-2
13. Mississippi: 8-2
14. Oklahoma: 8-2
15. LSU: 7-3
16. Utah: 7-3
17. Tulane: 9-1
18. James Madison: 10-0
19. Arizona: 7-3
20. Notre Dame: 7-3
21. Tennessee: 7-3
22. North Carolina: 8-2
23. Kansas St.: 7-3
24. Oklahoma St.: 7-3
25. Liberty: 10-0
USA Today Coaches Top 25:
1. Georgia 10-0
2. Michigan 10-0
3. Ohio State 10-0
4. Florida State 10-0
5. Washington 10-0
6. Oregon 9-1
7. Texas 9-1
8. Alabama 9-1
9. Louisville 9-1
10. Orgon State 8-2
11. Missouri 8-2
12. Penn State 8-2
13. Oklahoma 8-2
14. Ole Miss 8-2
15. LSU 7-3
16. Utah 7-3
17. Tulane 9-1
18. Nore Dame 7-3
19. Tennessee 7-3
20. North Carolina 8-2
21. James Madison 10-0
22. Arizona 7-3
23. Iowa 8-2
24. Kansas State 7-3
25. Oklahoma State 7-3
The College Football Playoff Poll will be released tomorrow night.
---
Have a blessed week!