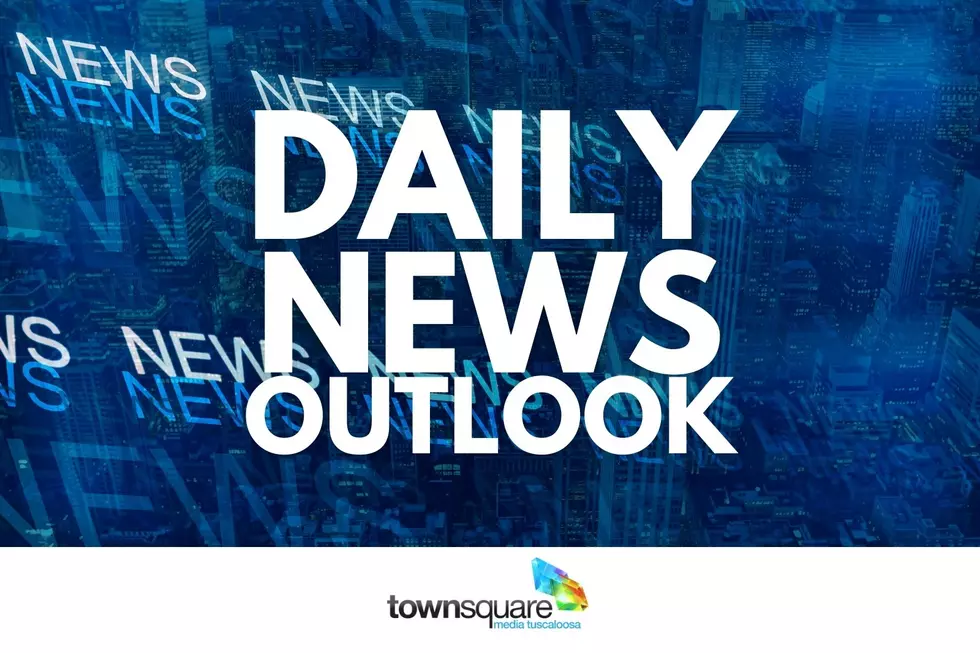 West Alabama Friday Briefing
Canva
It is Friday November 17, 2023, and it looks like the on and off rain of the last week or so has done little to impact the spread of the drought across West Alabama.
The new Alabama Drought Monitor released yesterday by NOAA shows Pickens, Tuscaloosa and Bibb Counties northward now in Extreme Drought. The rest of West Alabama is in Severe Drought.
The wildfire threat has been tempered but it is still present. There are 51 wildfires currently burning statewide according to the Alabama Forestry Commission Map. However, there is only one in West Alabama. It is located in extreme east Tuscaloosa County.
Help could be on the way Monday night into Tuesday. The National Weather Service in Birmingham is predicting significant rain (1" to 3") for West Alabama Monday night into Tuesday. The storm system will bring a possibility of strong to severe thunderstorms near and south of the U.S. 80 corridor through West Alabama.
All the wet and storm weather could impact holiday travel the first of the week, but Thanksgiving Day is forecast to be sunny and cool.
The Forecast:
Today: A 20 percent chance of showers after 3pm. Mostly cloudy, with a high near 73. Southeast wind around 5 mph becoming northwest in the afternoon.
High School Football Friday Night: A 30 percent chance of showers, mainly before 9pm. Mostly cloudy, with a low around 56. Northwest wind around 5 mph.
Crimson Tide Football Saturday: Mostly cloudy, then gradually becoming sunny, with a high near 69. North wind 5 to 10 mph.
Saturday Night: Mostly clear, with a low around 38. North wind around 5 mph.
Sunday: Sunny, with a high near 68. North wind around 5 mph becoming south in the morning.
Sunday Night: A 20 percent chance of showers after midnight. Mostly cloudy, with a low around 49.
Thanksgiving Week:
Showers and thunderstorms Monday and Tuesday with highs in the upper 60s and lower 70s. Lows will be in the mid and uppers 30s.
Remainder of the Week: Sunny days and mostly clear nights with highs in the mid 50s and lows in the mid 30s to lower 40s.
---
---
Topping the News:
The potential for that stormy weather Monday night into Tuesday has prompted a postponement of the opening of the 2023 Tuscaloosa Tinsel Trail at Government Plaza Downtown. Instead of Monday, the Tinsel Trail will open on the 27th with ceremonies at 5:30pm.
---
The execution in Alabama of Casey McWhorter last night for killing a man he was attempting to rob has intensified debate over the death penalty. McWhorter was sentenced to death on a 10-2 jury vote. Tuscaloosa Democrat State Rep. Chris England sponsored a bill during the last legislative session that would require a unanimous vote, a measure that failed to pass. England has told news partner ABC3340 he plans to reintroduce it during the next session.
---
Once NUCOR Steel completes a $280 million expansion their Tuscaloosa plant will be able to produce a thin, strong roll of steel. The product will be exclusive in the United States. The expansion will not add to the current 400 employee workforce but will add to NUCOR's competitiveness and its investment in the Tuscaloosa Community.
---
The UA Capstone College of Nursing has received more than $3.5 million in Federal grant money. It will go towards recruiting nursing educators to the significantly understaffed nursing work force.
---
Former Alabama Baseball Coach Brad Bohannon, who was fired for his alleged involvement in illicit gambling on his team's games at LSU last season, has now been banned from Ohio Sportsbooks according to ESPN. The bet was placed in Cincinnati at the Red's Great American Ballpark.
---
Tuscaloosa's Tim Anderson, free agent of the Chicago White Sox will give away 205 free turkeys between 4 and 6:30 Tuesday at his alma mater, Hillcrest High. The giveaway will be first come-first served. The event is sponsored League of Leaders, a non-profit founded by Anderson to build leadership in youth.
---
If you are headed out of town for the Thanksgiving Holiday next week, gasoline prices will not break the bank for your trip according to AAA Alabama's Clay Ingram. He says gas price nationwide average $3.33, down 25 cents from a month ago and 42 cents from a year ago.
In Alabama the average is $2.91. That is down 23 cents from a month ago and 36 cents from a year ago.
Ingram says Triple A is predicting one of the busiest holiday travel periods ever.
---
With the holiday shopping season already in full swing Tuscaloosa Mayor Walt Maddox is asking area residents to shop local.  He says shopping online may be convenient, but it devastates local businesses and erodes local schools, public safety, healthcare, roads and quality of life because it takes dollars out of the local economy.
November 25th is Small Business Saturday and Maddox is encouraging shoppers to invest in their community.
---
---
In Sports:
Chattanooga (7-3) visits Alabama (9-1) at Bryant-Denny Stadium for the Tide's second straight 11:00 am kickoff tomorrow. The 8th ranked Crimson Tide is a 44.5-point favorite. Believe it or not, the over/under is 110 points.
---
The Atlanta Braves got to two positive announcements from Major League Baseball yesterday.
1. Ronald Acuna, Jr. has been selected as the National league's Most valuable Player for the season just completed.
2. The Brave's Truist Park will host the 2025 Major League All-Star Game.
---
From UA Athletics: The Alabama women's basketball team defeated the South Florida Bulls 70-41 Thursday night in Coleman Coliseum. With the win, the Crimson Tide have now held each of its first four opponents under 50 points for the first time in program history.
---
From UA Athletics: The No. 22/22 Alabama men's basketball team will host the final game of its four-game homestand to start the 2023-24 season, as the Crimson Tide will face Mercer at 7 tonight at Coleman Coliseum.
The Tide has currently won 18-straight games at Coleman, which ranks as the fifth-longest home winning streak in Division I, winning by an average of 26.6 points per contest.
---
Area High School Football Action Tonight:
Undefeated Hillcrest will host Helena in 6A. In 5A, Demopolis is home to B.C. Rain. 4A play, finds Bibb County traveling to Jacksonville. In 3A, Gordo visits Geraldine while Winfield gets a visit from Sylvania. 2A play, finds TA traveling to Southeastern and Sulligent home to Locust Fork. In 1A, Sweet water hits the road to Maplesville, Pickens County is at Winterboro and South Lamar hosts Wadley.
---
Have a wonderful weekend and if you are already hitting the road for the Thanksgiving holiday; please check your car's working order before you drive, drive defensively, buckle-up and don't drink or text while you are behind the wheel.
ROLL TIDE!!