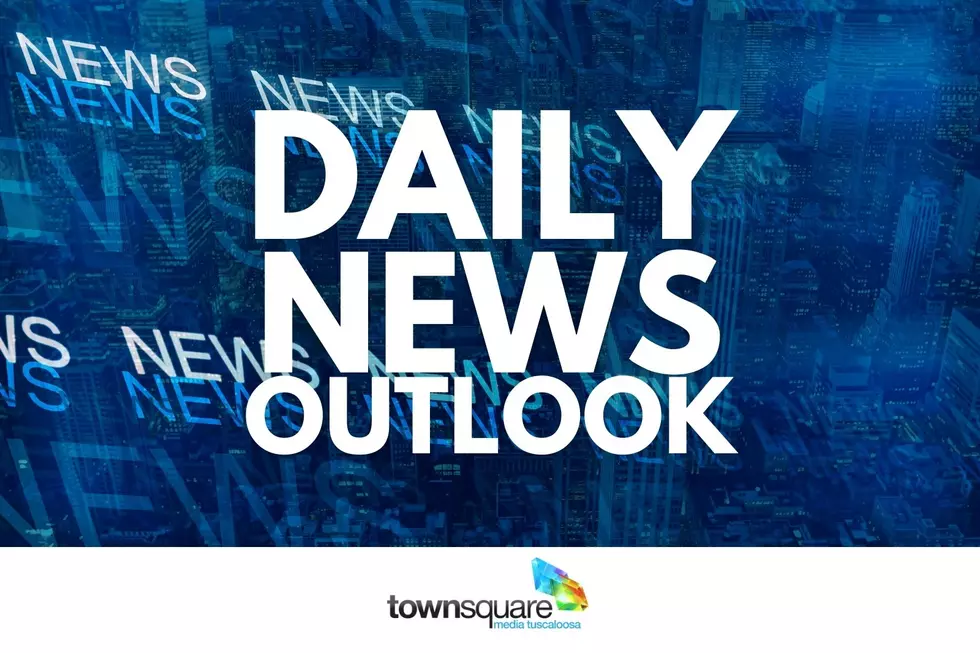 West Alabama Friday Briefing
Canva
It is Friday, September 29, 2023, the last weekend of September. Sorry for the delay on posting today's briefing. Technology is great - when it works. But the problems have been ironed out and the weekend is almost here.
It should be a good weekend weatherwise with mostly clear skies and highs in the upper 80s to lower 90s and lows in the mid to upper 60s. But be prepared to keep getting out the sprinklers. There is no rain in sight through the end of next week.
The Forecast:
Today: Sunny, with a high near 88. Northeast wind around 5 mph.
High School Football Friday Night: Clear, with a low around 64. Calm wind becoming northeast around 5 mph.
Saturday: Sunny, with a high near 90. Calm wind becoming northeast around 5 mph in the afternoon.
Crimson Tide Football Saturday Night in Starkville MS: Mostly clear, with a low around 63. Calm wind.
Sunday: Sunny, with a high near 88. East wind around 5 mph.
Sunday Night: Mostly clear, with a low around 65.
Next Work Week: Sunny days with highs in the mid 80s with clear to partly cloudy nights and lows in the lower 60s.
---
---
Topping the News:
After a public "Emergency Alert" was issued, a suspect is in custody after a stabbing occurred after a home invasion in Moundville this morning. The incident took place on Graymont Blvd. according to the multi-agency Tuscaloosa Violent Crimes Unit. Nicholas Lynch was arrested in what is thought to have been an isolated, domestic violence situation between two parties that know each other. The victim is expected to survive several stab wounds.
---
Former Alabama Basketball player Darius Miles immunity hearing continued this morning in Tuscaloosa Circuit Court. The hearing is based on submission of new evidence and witness testimony. Miles is being tried separately from his childhood friend Michael Davis, who allegedly used the handgun owned by Miles in the shooting that killed 23-year-old Jamea Harris.
---
According to a notice for the Better Business Bureau there may be a scam going on using the name of a former Tuscaloosa Business. The following is a statement issued by Carl Bates, Better Business Bureau of Central Alabama, President/CEO":
" We believe that a group of scammers have started impersonating the former Alabama Truck and Equipment business that at one time existed at 4400 Joe Mallisham Pkwy.
"They have established a website https://altruckandequipments.com/  that shows they are selling commercial equipment but in actuality they are collecting deposits electronically for the equipment from across the country and no equipment actually exists or is ever delivered.  These same folks have done this at least six times, impersonating Alabama businesses that are no longer active in the last year.
We have reported them to the FBI who are investigating."
---
Strong political party differences may cause a federal government shutdown this weekend. A continuing resolution supported by Democrats would maintain funding at current levels. It would also include $6 billion in funding for Ukraine and $6 billion for U.S. disaster relief.
Republicans want a package of bills that will more drastically cut federal spending. West Alabama Congressman Robert Aderholt, (R-District 4), echoed that statement saying, "It is all very fluid right now. The goal is to get all 12 bills done and cut spending in a meaningful way.
---
Alabama ranks 50th out of the fifty states and Puerto Rico in nursing home- and home-based healthcare according to a report card released by AARP. Overall scores for Alabama were poor with access to care at home and community integration being the lowest marks.
Alabama has to lowest funding for home-based care in the nation.
---
The Alabama Emergency Management Agency (AEMA) announced today that it has been granted full accreditation by the national Emergency Management Accreditation Program (EMAP).
AEMA said EMAP accreditation is achieved through a rigorous self-assessment, documentation, and peer assessment verification process.
An AEMA release states, "By meeting the Emergency Management Standard, AEMA has demonstrated its capabilities in disaster preparedness and response systems".
AEMA was first accredited in 2018. The state joins 31 other states that are accredited through EMAP.
---
30-year-old De'Airo DeShawn Bryant has pleaded guilty to Electronic Solicitation of a Child in Fayette County. The victim was 15 years old at the time and had met Bryant on a social media instant messaging app. Bryant was 27 at the time of the offense.
---
The annual Beat Auburn Beat Hunger food drive is about to get under way. The rivalry between the two schools is put to good use each year leading up to the season ending Iron Bowl matchup on the gridiron.
A kickoff event will be held at 10:00 a.m. Monday on the steps of the capitol building in Montgomery. Representatives from UA and AU will be on-hand as Gov. Kay Ivey, an Auburn graduate, will make donations to both universities.
Since its inception in 1994, UA and AU have raised more than 8 million pounds of food for the more than 700,000 residents identified as having low food security.
Donation barrels will be stationed across campus and the city of Tuscaloosa.
---
---
In Sports:
Tuscaloosa Academy ran their record to 4-2 last night with a 42-6 win over University Charter School in Livingston during last night's high school football game.
Some of tonight's top area prep football action has Fayette County hosting Marion County, South Lamar is at Sulligent, Central welcomes Aliceville, Lamar County travels to Berry, Greensboro visits Johnson, Sipsey Valley hits the road to Oak Grove, Demopolis is at Montgomery Catholic, Jasper travels to Lanier, Hillcrest is at Gadsden City, American Christian hosts Northridge and Bibb County is home to Andalusia.
---
Former Crimson Tide basketball star Josh Primo has been suspended for four games without pay by the NBA "for conduct detrimental to the league." A release by the NBA claims Primo exposed himself to women. Primo claims it was unintentional.
The San Antonio Spurs stunned the NBA when they waived Primo on Oct. 28, 2022, without providing a reason.
---
When Alabama takes on Mississippi State tomorrow night in Starkville MS, they will do so without starting linebacker and defensive quarterback Deontae Lawson. Meanwhile, and guard Terrence Ferguson's status is listed as "very questionable". Both players are injured.
The Tide and Bulldogs have a late game tomorrow night with kickoff at 8:05 at David Wade Stadium on the MSU campus. You can hear the game on 100.9 The Tide and 95.3 The Bear on the Crimson Tide Sports Network.
---
Have a blessed weekend and ROLL TIDE!!